Welcome to our Zen Garden, where your journey to wellness begins.
About this event
How To Register or Donate :
To attend, or Donate, Click 'Register'.
If you prefer to do an E-transfer donation, it can be sent to: AC_EMCF@algonquincollege.com
The Zen Garden is a FREE wellness Event, hosted virtually on SATURDAY, MARCH 27, 2021, FROM 3:00 PM – 5:00 PM. We will take you on a journey of activities you can incorporate into your daily lives, to help overcome those powerful emotions. This fundraising event for the Dave Smith Youth Treatment Centre includes a click-to-donate campaign, as well as a silent auction that will run throughout the two hours. The best part is that you will gain the knowledge to create your own wellness toolkit to use in your daily lives.
Activities include an invigorating beginner-yoga session, guided meditation, a relaxing art session, an aromatherapy activity, and our virtual silent auction.
* As we will be recording this event, we do not obligate attendees to have their camera on, but we do highly recommend it to get the most out of this experience.*
EVERYONE IS WELCOME!
For more information about the charity, and silent auction for our event, please visit us at : https://zengardenacem.wixsite.com/wellness.
Silent Auction Link: https://www.32auctions.com/zengarden_acem
Instagram: @zengarden_acem
https://www.instagram.com/zengarden_acem/
Facebook: @zengardenac
https://www.facebook.com/zengardenac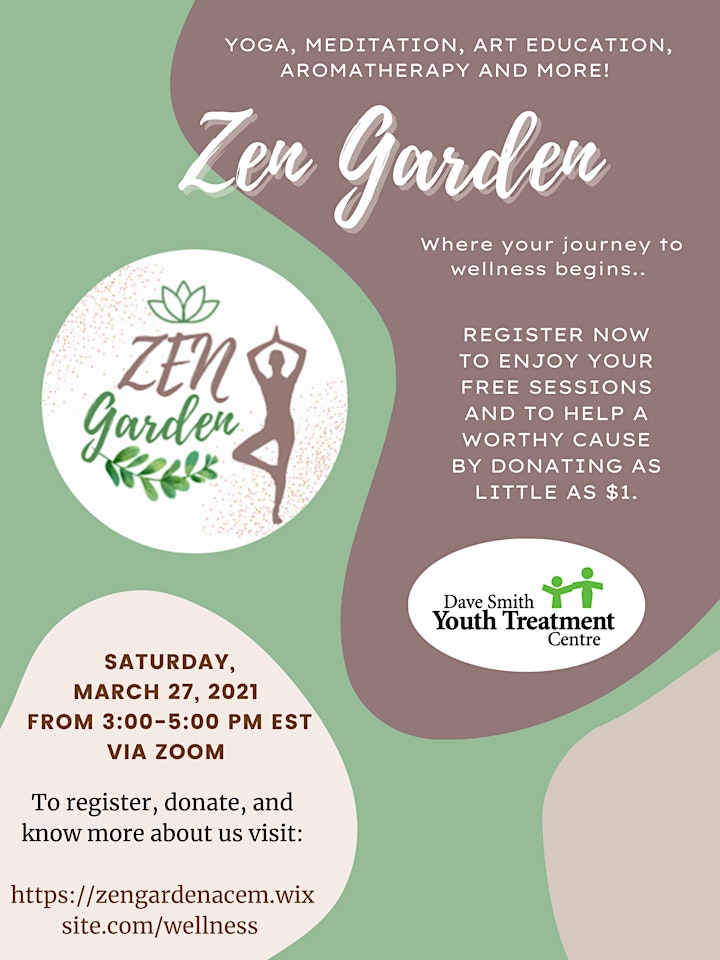 Organizer of The Zen Garden - 'Your Journey to Wellness'