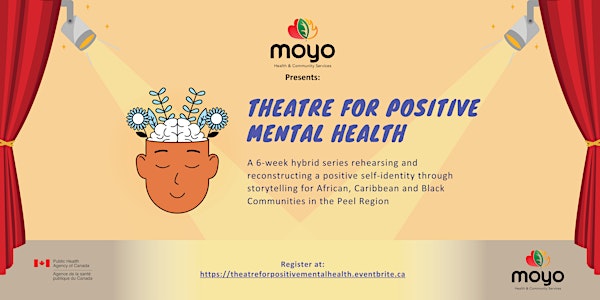 Multiple dates
Theatre For Positive Mental Health
Rehearsing and reconstructing a positive self-identity though storytelling for African, Caribbean and Black Communities in the Peel Region
By Moyo Health & Community Services
When and where
Date and time
Thu, Jan 19, 2023 3:00 PM - Tue, Mar 28, 2023 5:00 PM PST
About this event
Moyo Health and Community Services Presents: Theatre for Positive Mental Health
Art therapy has long been used to alleviate mental health challenges. Participatory arts for people experiencing mental health concerns allows participants to play out scenes from their everyday life and reflect on the social construction of their realities. Sessions will be held both online and in-person.
Over the course of 6 weekly sessions starting January 19th, folks will participate in discussions and develop stories, narratives and monologues that touch on the unique determinants of health that impact Black folks. The group sessions that involve participatory theatre will be used to promote healthy lifestyles, emotional resilience and coping skills among the Black adult and youth.
Theatre for Positive Mental Health was created as a response to mental health challenges disproportionately affecting African, Caribbean, and Black (ACB) groups living or working in the Peel region. This program will work to support improved mental health outcomes for this community by using aspects of storytelling and participatory theatre, both of which have been implemented successfully for community health interventions.
Theatre for Positive Mental Health Sessions Schedule
1. Act Up: Intro to Participatory Theater and Black Mental Health (ONLINE)
Jan 19th, 2023: Get into character! Join us for our first session on deconstructing Black stereotypes
2. Disrupting the Stigma: A Deeper Dive into Black Mental Health (ONLINE)
Jan 26th, 2023: Continue the conversation on Black Mental Health and its impact on everyday lives
3. Real Talk: A Word on Black Bodies & Sexual Health (ONLINE)
Feb 2nd, 2023: Destigmatizing sexual wellness and breaking stereotypes around sexual wellness
4. Black Love (IN PERSON – LOCATION TBA)
Feb 9th, 2023: An exploration of love and how to cultivate self-love and engage in healthy relationships
5. I Got the Power (ONLINE)
Feb 16th, 2023: Self-advocacy and negotiating healthy boundaries at school, work and in everyday life
6. Graduation (IN PERSON – LOCATION TBA)
Feb 23rd, 2023: Bravo, we made it! Recapping our experiences and celebrate successful completion
Program Coordinator:
Meyran Mohamed (She/Her)
Community Engagement Manager
Email: meyranm@moyohcs.ca
About the organizer
For over two decades, Moyo (previously known as Peel HIV/AIDS Network) has provided a growing array of health promotion, education, social and support services for people living with, affected by, and at systemic risk of HIV. Through collaborative efforts and effective service delivery, Moyo has become a leader in the social service sector of Peel Region.