Event Information
Location
Prince Charles Park
1198 Columbia Street
Kamloops, BC V2C
Canada
Theatre Under the Trees features The Lion, the Witch, and the Wardrobe and Red Riding Hood - a family theatre experience running July 4-23rd
About this event
To find out more about Theatre Under the Trees 2022, our weather plans, and ticket prices, visit our website: www.projectxtheatre.ca.
Ticket Information:
• Early Bird Pricing ends June 15th
• Tickets are General Admission - arrive early to get the best seats!
• No Refunds. To exchange your tickets to another day, please contact the box office at info@projectxtheatre.ca.
• Fees apply when purchasing tickets online or at the Festival Box Office (with a credit card).
• Tickets for the festival will also be available at the gates starting one hour before show time. No extra fees apply on tickets bought for cash at the gate.
• Cash, Visa, or Mastercard accepted.
Discounted Ticket Options:
• Early Bird Pricing Ends June 15th
• Buy-One-Get-One Free (BOGO) Tickets are available for our Preview Performances July 4-6. 2022
• Pay-What-You-Can (PWYC) Matinees are at 2pm on Saturday July 9 (Red Riding Hood) and 23 (The Lion, the Witch, and the Wardrobe). Full price tickets are available in advance. Pay-What-You-Can tickets will be available at the Festival Gates 1 hr before showtime.
• Family Packs include 2 Adult/Senior Tickets & 2 Student/Child Tickets to each show (8 tickets total)
• Both Show Discount includes a ticket for each show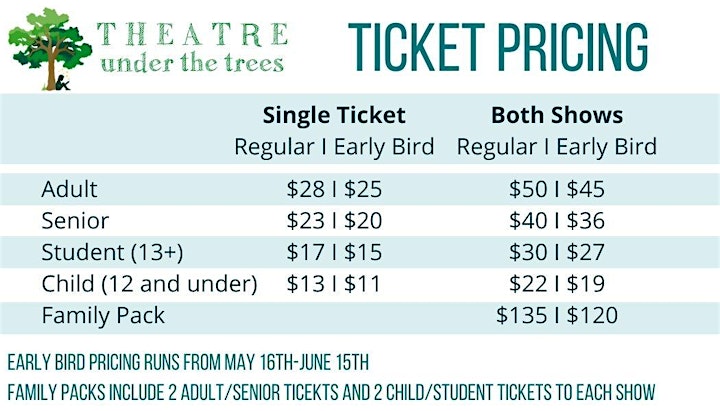 About the Shows:
The Lion, the Witch, and the Wardrobe From the story by C.S. Lewis. Adapted by Melissa Young
Join Lucy, Edmund, Peter, and Susan on a thrilling adventure beyond the wardrobe and into the faraway land of Narnia. This inventive new take on a beloved classic featuring incredible costumes, enormous battles, and breathtaking puppets is sure to amaze audiences of all ages.
Best for ages 6+
Running Time: 60 minutes
Post Show Talkback: Wednesday July 13th, 7pm
Relaxed Performance: Saturday July 16th, 7pm
Red Riding Hood A musical adaptation by Mike KennyMusic and Lyrics by Julian Butler
While staying overnight at their grandmother's house, Bridget and Stephen just can't sleep! Join these silly siblings on a funny, fast-paced, and musical adventure through the woods in this surprising adaptation for younger audiences.
Best for ages 3+
Running Time: 60 minutes
Post Show Talkback: Tuesday July 12th, 7pm
Questions? Don't see the ticket types you need? Email the Box Office at info@projectxtheatre.ca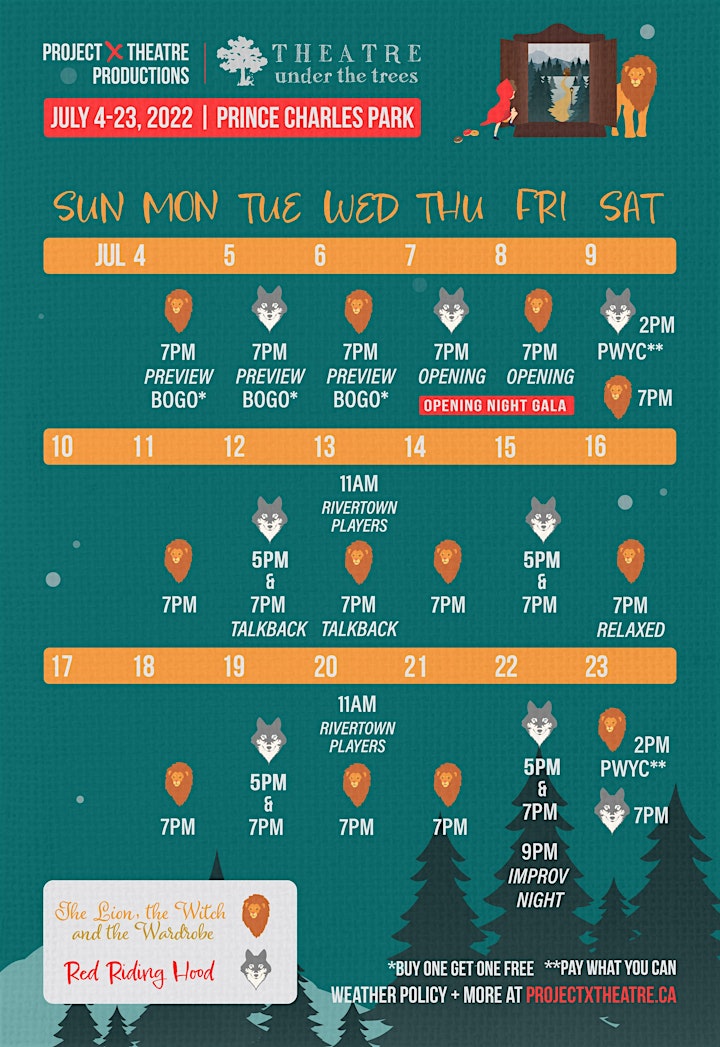 Date and time
Location
Prince Charles Park
1198 Columbia Street
Kamloops, BC V2C
Canada
Refund policy