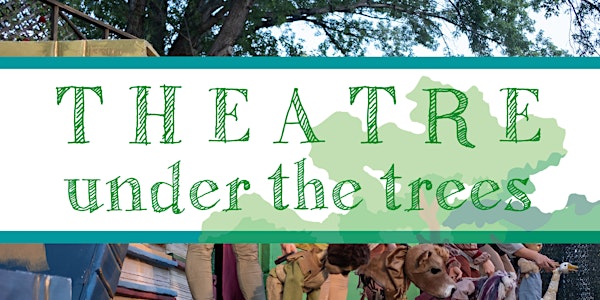 Theatre Under the Trees 2023
Featuring The Hobbit and The Incredible Adventures of Mary Jane Mosquito - a family theatre experience running July 10-29th
Location
Prince Charles Park 1198 Columbia Street Kamloops, BC V2C Canada
About this event
19 days 3 hours

Mobile eTicket
To find out more about Theatre Under the Trees 2023, our weather plans, and ticket prices, visit our website: www.projectxtheatre.ca.
Ticket Information:
• Tickets are General Admission - arrive early to get the best seats!
• EARLY BIRD TICKETS will be available until June 15th.
• No Refunds. To exchange your tickets to another day, please contact the box office at info@projectxtheatre.ca.
• Fees apply when purchasing tickets online or at the Festival Box Office (with a credit card).
• Tickets for the festival will also be available at the gates starting one hour before show time. No extra fees apply on tickets bought with cash at the gate.
• Cash, Visa, or Mastercard accepted.
Discounted Ticket Options:
• Buy-One-Get-One Free (BOGO) Tickets are available for our Preview Performances July 10-12. 2023. BOGO tickets are only available in groups of 2.
• Pay-What-You-Can (PWYC) Matinees are at 2pm on Saturday July 15 (The Hobbit) and 29 (The Incredible Adventures of Mary Jane Mosquito). Full price tickets are available in advance. Pay-What-You-Can tickets will be available at the Festival Gates 1 hr before showtime.
• Family Packs include 2 Adult/Senior Tickets & 2 Student/Child Tickets to each show (8 tickets total)
• Both Show Discount includes one ticket for each show
About the Shows:
The Hobbit
Based on The Hobbit by J.R.R. TolkienLicensed by Middle-earth EnterprisesAdapted for the Stage by Greg BanksProduced by special arrangement with Plays for New Audiences
Directed by Jennica Grienke
Follow the quest of our favourite home-loving hobbit through magical Middle Earth as he learns that friendship is more valuable than gold. This new adaptation of the much-loved story features music, monsters, and more!
Best for ages 6+
Running Time: 120 minutes with intermission
Post Show Talkback: Wednesday July 19th, 7pm
Relaxed Performance: Saturday July 22nd, 7pm
The Incredible Adventures of Mary Jane Mosquito
Book, music, and lyrics by Tomson Highway
Directed by Cheyenne Scott
Join Mary Jane, a wingless mosquito from Petit Petit LePaw, Manitoba, in this delightful musical cabaret. Featuring Cree language and a beautiful message of belonging, Mary Jane Mosquito overcomes fear and adversity to make new friends.
Best for ages 3+
Running Time: 45 minutes, no intermission
Post Show Talkback: Tuesday July 18th, 7pm
Special Events: New Shoots readings and Improv After Dark
New Shoots Reading A: July 21st, 11am
Join us online for a reading of a new play in development, Aaron Foster's The Wild McLeans. Based on Kamloops history, this play follows the McLean brothers in the final days of their short and complicated lives. Best for an adult audience.
New Shoots Reading B: July 22nd, 2pm
Join us in Prince Charles Park for a reading of a new play in development, Jakob Kopytko's adaptation of Thumbelina. Great for all ages.
Improv After Dark: July 28th, 9pm
Some of Kamloops best improv artists hit the Theatre Under the Trees stage for an unhinged night of wild and silly impromptu storytelling. Improv After Dark is supported by BCLC. Best for an adult audience.
Questions? Don't see the ticket types you need? Email the Box Office at info@projectxtheatre.ca