THEN & NOW, Pandemic Life Stories - a devised-theatre project tracing the highs and the lows of lockdown life over the past 18 months.
About this event
THEN & NOW, Pandemic Life Stories - A Staged Reading at Genesis Theatre, in Ladner, BC. A devised-theatre project created over the course of a year by the Delta Stageworks artist collective; featuring a cast of both professional artists and community members. From community interviews, local news events and the exploration of our own lived experiences of living through the monumental changes of this last year and a half, comes a multi-media theatrical evening of stories that follow the ups and downs, the laughs and the lows of the lockdown life we've all been experiencing since March 2020.
TICKETS AVAILABLE ONLY ONLINE BY GENERAL ADMISSION
Directed by Cory Haas
Featuring: Cameron Bancroft, Renee Iaci, Eric Keenleyside, Peg Keenleyside, Marilyn Norry, Sandra Patterson and (on Zoom) Vera Mayor, Lorne Patterson, Nick Keenleyside and Sam Bob
Stage Management by Al Zylstra
Videography by Cliff Caprani
Produced by The Delta Stageworks Artist Collective
CONTACT US: deltastageworks@gmail.com
WHERE TO FIND US:
Website: deltastageworks.ca
Instagram: instagram.com/deltastageworks
Facebook: facebook.com/deltastageworks
GOOD TO KNOW: Genesis Theatre follows all indoor event PHO safety protocols. Patrons must provide a vaccine card and photo identification, and wear a mask. Please allow ushers to assist with seating to ensure maximized spacing.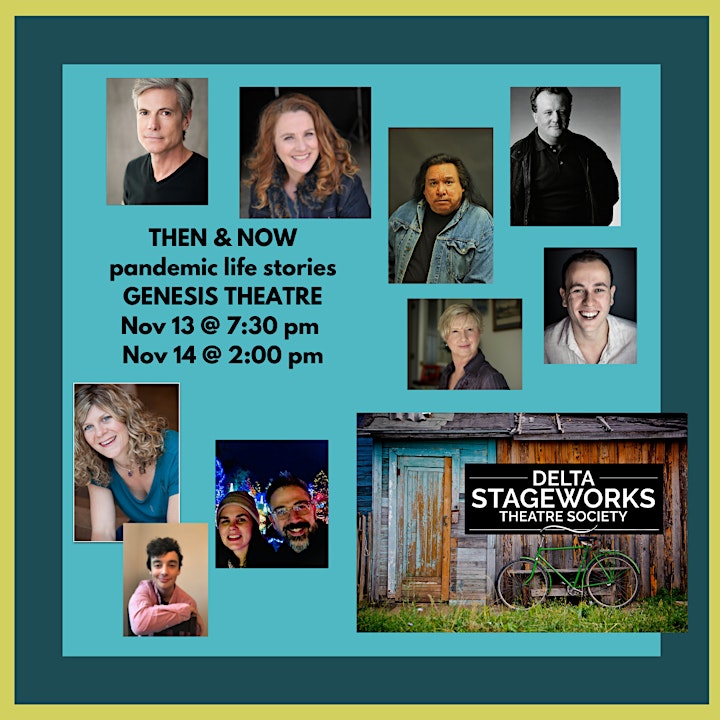 Organizer of THEN & NOW - Pandemic Life Stories
Delta Stageworks Theatre Society brings together experienced theatre artists and community groups to present innovative new theatre projects for Delta audiences. Using the theatre art practices of collective creation, site-specific performance presentation as well as traditional forms of theatre, Delta Stageworks offers Delta theatre makers and audiences a dynamic new vision for theatre experiences in our community.