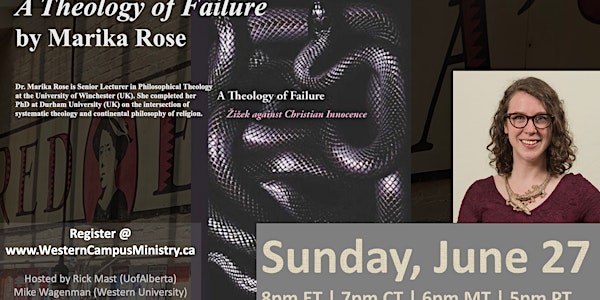 Theology of Failure Book Discussion
A book discussion of Marika Rose's book "A Theology of Failure: Žižek against Christian Innocence."
About this event
Calling all philosophers and theologians!
We end this year's online (pandemic) book club with a challenging work of academic philosophical theology - but SO relevant! We will explore the necessary, important, and positive role of "failure" in life through the philosophy of Slavoj Žižek, a "rock star" continental philosopher. This is all presented by Marika Rose in her new book. Even if this is all way over your head, join us for the discussion because we want to land this topic in everyday life because, well, who hasn't failed?
We will gather on Zoom on Sunday, June 27 at 8pm ET (7pm CT, 6pm MT, 5pm PT). When you register, a Zoom link will be emailed to you. You will also receive a reminder email the day of the event with the same Zoom link for convenience.
Happy to host this series with you!
Rick Mast (University of Alberta, Edmonton) and Mike Wagenman (Western University, London)