Theo's Feast, July 19, 2014

Saturday, 19 July 2014 at 6:00 PM
Event Details
Theo's Feast, July 19th, 2014

Theo's Feast is a unique dining experience that is as equally appetizing to the mind and soul as it is to the most distinguished palate. Inspired by many of the world's most creative avant-garde culinary artists, thought provoking theologians and culture shaping philosophers, Theo's Feast is a true gastronomic adventure that cleverly pairs one of a kind dishes to universal metaphors revealing timeless truths that have been a part of humanity's story from the very beginning. 
You will be taken on an exceptional food tasting journey through the story of humanity as every element of each of this 5 course meal has been meticulously designed to enliven your senses while provoking opportunity for a fun and enlightening conversation with your friends.
Please join us for a truly memorable spiritually inspired evening,
Sincerely,
Culinary Artist, Gary Stevenson, Le Cordon Blue Alumni, Chef Brandon J Turner, and aspiring Chef, Stephanie Porter.
Tickets are $40 per person for the Chef's Tasting Menu below. Please note, because of the many specialty ingreadients required and limited seating, our RSVP Deadline is July 15th.
Please contact gary.stevenson@p2c.com for questions or if you would like to RSVP after July 15th.
Please allow 2 - 3 hours to complete your meal.
Please RSVP by purchasing your tickets via Eventbrite.ca website:
Theo's Feast is best with Adults only please.
For more information and updates or to share Theo's Feast with your friends please visit our Facebook page at: 
https://www.facebook.com/events/319744668189801/
Reviews: What recent guests are saying about our previous Theo's Feasts:
"I thought it was i) unique, ii) full of passion, and iii) delicious.
I would give it a 9/10 "
~ Professor Doug Allen, SFU Economics 
"A thought provoking experience of new sensations. So original and delicious." 
"It was simply amazing. I was so touched. I never knew that food could be related to such spiritual matters." 
"It changed the way I look at some things that I used to think of as ordinary, can truly be extraordinary"
"BRILLIANT"
Our Chef's Tastings Menu: (Subject to change)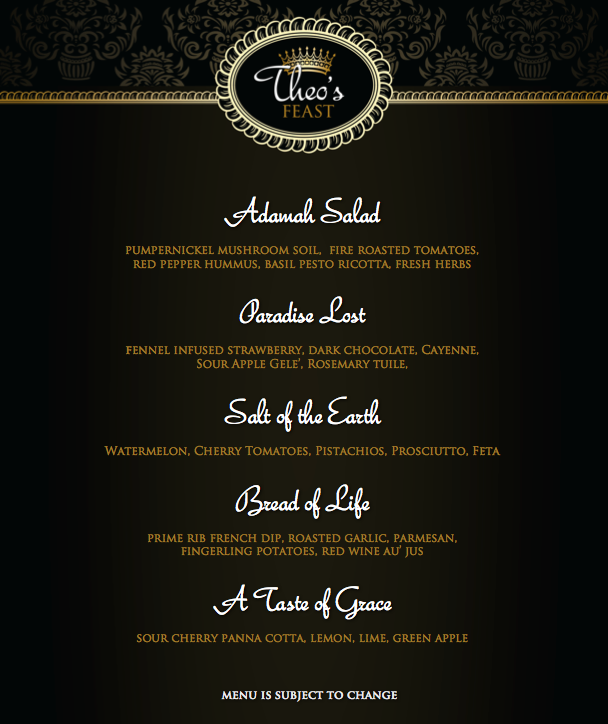 When & Where

Power To Change, Canada
20385 64 Ave
Langley, BC V2Y 1N5
Canada

Saturday, 19 July 2014 at 6:00 PM
Add to my calendar
Organizer
Power to Change seeks to make an impact in the world by helping students to grow as leaders and explore the spiritual dimension of life.