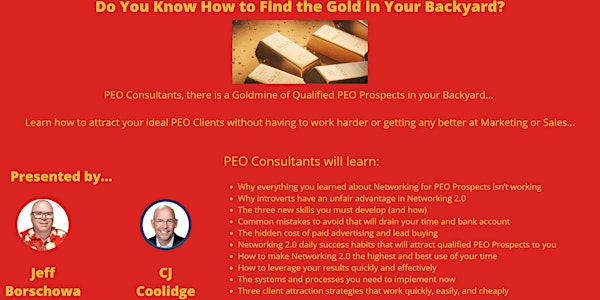 There is a Goldmine of Qualified PEO Prospects in your Backyard…
PEO Consultants will learn the natural advantages to networking to close more deal, why introverts have an unfair advantage, and more.
By Pharos Business Services
When and where
Date and time
Thu, Dec 15, 2022 9:00 AM - 11:00 AM PST
Refund Policy
Contact the organizer to request a refund.
Eventbrite's fee is nonrefundable.
About this event
Watch the eight short videos below before you attend the workshop to get the most out of what we cover during the live workshop. The total time for the eight videos is 2 hours and 32 minutes. The videos are the theory. We will focus on practical implementation of this theory during the live session.
PEO Consultants will learn:
Why everything you learned about Networking for PEO Prospects isn't working
Why introverts have an unfair advantage in Networking 2.0
The three new skills you must develop (and how)
Common mistakes to avoid that will drain your time and bank account
The hidden cost of paid advertising and lead buying
Networking 2.0 daily success habits that will attract qualified PEO Prospects to you
How to make Networking 2.0 the highest and best use of your time
How to leverage your results quickly and effectively
The systems and processes you need to implement now
Three client attraction strategies that work quickly, easily, and cheaply
This is your best chance to break free from the pressure of PEO selling so 2023 becomes your best year ever, and lays the foundation to guarantee your success in PEO selling from now on.
Early Bird ticketholders will receive access to the recording after the event. This is an exclusive benefit to those who act early. We encourage people who want the recording to sign up for Early Bird pricing even if you can't make it to the live session. This is literally the same recording you get if you pay the full price for recording only.
Personally, we care more about your results than about ticket sales. We would really prefer all of you to show up so that you can get the most benefit from the workshop.
Watch the short videos before you attend to get the most out of what we cover. We will focus on implementation during the live session.
Do You Know How to Find the Gold in Your Backyard? Learn How to Attract Your Ideal Clients...The first video is an introduction that talks about the contents of our full workshop.
Part 2: This is the next video in our series on how to find the gold in your backyard to grow your business. Spoiler alert, we tackle the mindset necessary to succeed with referral-based or relationship marketing.
Part 3: We cover more of the background information that you need in order to become successful at networking. We introduce 3 growth strategies that work. We will go into detail for each of the 3 growth strategies in future videos.
We share these videos for one simple reason. We do not want to waste 90 minutes of your time if you do not believe that networking works. However, if you truly believe that it works and you want to do it better, we want to make sure that you maximize the value you get out of our time together.
Note: Video 7 is our "secret" ingredient. If you skip to it, you can decide whether you want to join us for our live workshop.
About the organizer
Pharos Business works with businesses to help them identify areas for growth and improvement.  Collectively, their team has over 4 decades of experience helping businesses grow.