Theremin Building Workshop

Saturday, 23 May 2015 at 10:00 AM

-

Sunday, 24 May 2015 at 5:00 PM (PDT)
Event Details
2 sessions: 14 hours + Public Performance | Non-Members: 450; VIVO Members $400 + GST (Includes cost of theremin kit).

Invented in the 1920's, it is one of the earliest electronic music instruments. To this day, it remains profoundly unique; in it's inimitably eerie sound and its uncanny physical presence—as an instrument played gesturally without actually being touched. Whilst it is antique, it still holds a place in our future imaginary. Participants will build their own Theremins to take home, experiment with the instrument's potential, explore its use in controlling other devices, and participate in the Vancouver Experimental Theremin Orchestra with a public presentation at VIVO.
This workshop includes the cost of this theremin kit. Please bring the appropriate enclosure for your completed theremin.
Choosing an enclosure:
 It must be made of wood or fibreboard no metal .  We have found that the antennas for a Therimin should be at least 30cm apart and some of the best machines had there's 45cm+ apart--- so the ideal box size would be 12cm high x 12cm deep x 30+cm long with the control panel on the 12cm side facing the operator. The control panel measures 9cm x 27.5cm and can be placed on the top or the front side.   Keep in mind that if it's placed on the top the cables and jacks that come out of panel may interfere with the operation of the Therimin as they may come close to the antennas.
INSTRUCTORS:
David Leith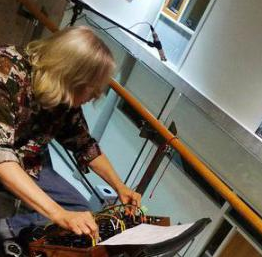 See more of David at http://minimalist.davidleith.com/DeitzModSynth.html
Rob Symmers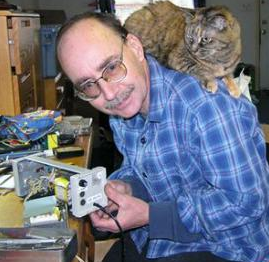 Spawned from a success at building a radio from scratch at age 12, followed by a hi-tech version of "Sid" in Toy Story, Rob Symmers has 30+ years of self-taught electronics experience. His work history has encompassed custom sheet metal shops, machine shops, metal fabrication and marine electrical. Rob has worked with many artists, helping them build their kinetic works. Rob's interests now lie in sound sculpture and kinetic art.
When & Where

Satellite Video Exchange Society Video in Studies
2625 Kaslo Street
Vancouver, BC V5M 3G9
Canada

Saturday, 23 May 2015 at 10:00 AM

-

Sunday, 24 May 2015 at 5:00 PM (PDT)
Add to my calendar
Organizer
VIVO MEDIA ARTS CENTRE, incorporated in 1973 as the Satellite Video Exchange Society (SVES), is Vancouver's oldest media arts access centre. VIVO continues to fulfill its founding vision by directly supporting independent artists, community-based producers and activists to develop and exchange their skills in a supportive environment. Our members gather around the tools and material means of production to invent new understandings, new genres and new friendships. Reflecting both the diversity of contemporary technologies and the symbiotic communities that coalesce around new forms of knowledge and creativity, our programming fosters formal, aesthetic and critical approaches to media arts practice. VIVO builds an audience of makers, organizers and critics through artists in residence, lectures, workshops, performances, exhibitions and curatorial and archival research. As an integral artist run centre in Vancouver, our resources and facilities will continue to inform and influence engagement in all levels of media art investment.