Sales Have Ended
Registrations are closed
Thank you for registering for the virtual cooking class. Please check your confirmation email for the zoom link. We look forward to meeting you. Thermomix® Edmonton Team
Sales Have Ended
Registrations are closed
Thank you for registering for the virtual cooking class. Please check your confirmation email for the zoom link. We look forward to meeting you. Thermomix® Edmonton Team
Join us for an entertaining in-person cooking class as we prepare delicious recipes with Thermomix®.
About this event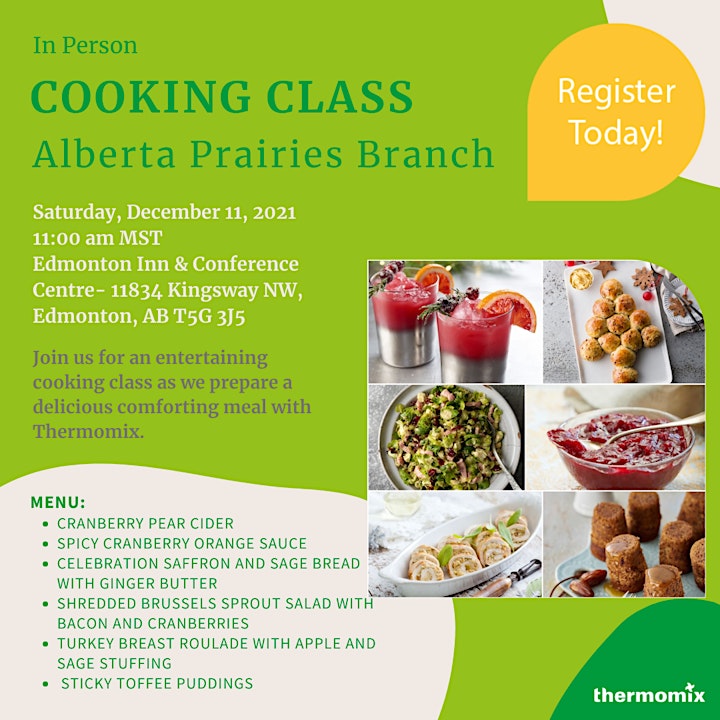 The Edmonton Inn & Conference Centre recognizes the broader suite of restrictions announced by the Government of Alberta on Wednesday Sept 15 are necessary to keep our community safe during this serious 4th wave. As a result, the venue will be fully participating in the Government of Alberta's Restrictions Exemption Program.
Note that mandatory indoor masking remains in effect for all indoor public venues in the province at this time. Masks are mandatory to be worn by everyone in public spaces on the property.
Mandatory Vaccinations:
Upon arrival at the hotel, guests will be asked to show their proof of Double Vaccination QR Code (paper or
digital/screenshot) and a "Vaccination Confirmed" card will be given to them. This allows for ease of re-entry for
those that need to come and go during the day, as they will then present this card upon re-entry.
Checking Vaccination Records:
The following are the options people 12+ can use to prove their vaccination status.
Paper: Printed QR Code from MyHealth Records
checked against Government Issued Picture ID (Drivers' License, etc.)
Digital: QR codes (paper/digital/screenshot) will be read and checked against Government issued picture ID.
COVID 19 Tests:
The Edmonton Inn & Conference Centre will NOT be accepting any COVID 19 test results in lieu of vaccine status. The venue do not have the capacity or expertise to determine the validity of a rapid test result.
If you aren't feeling well, are exhibiting symptoms of the coronavirus disease, or have been in contact with someone who has tested positive, please continue to stay at home as per direction from a health professional. We'll eagerly await a time to meet you again once you're feeling better.
Thank you for your understanding, we look forward to meeting you!