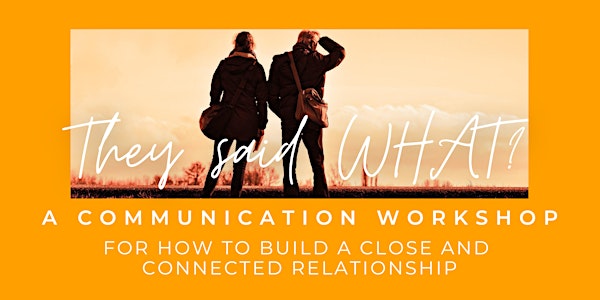 THEY SAID WHAT? How to Communicate for a Close and Connected Relationship
This is a free, hands on, judgement free workshop to practice connecting with your partner in a way that feels really good for both of you!
About this event
You deserve an AMAZING relationship.
You started your relationship with stars in your eyes and wild attraction in your body...
You started your relationship thinking this is the most wonderful person in the whole wide world and you are so incredibly fantastically lucky…
But then reality kicked in.
Your inner child met their inner child and the push and pull of freedom, choices, desires, respect, doubt, fear, and confusion made the good feelings seem like a distant memory.
We get it - we've been there…
And we found a better way.
A better way than blame and shame, a better way than seeing who can yell louder, a better way than defending yourself, and a better way than feeling hurt, rejected, scared, and abandoned.
Hi! I'm Carina, an energetic Life Coach, and together with my partner, Relationship Coach Matt Hilliard-Forde, we have created this workshop to learn and practice simple ways to talk to yourself and each other so that you can keep the love alive, and do it together as a TEAM.
This workshop is for you if:
💔 You've just had the same fight - AGAIN
💔 You're tired of saying the same thing yet again and still not feeling heard
💔 You're frustrated that you aren't feeling supported or understood
💔 You BOTH feel like you've got the worse end of the relationship
💔 Whatever you do never feels like enough
💔 You've tried *everything* and it's not enough
💔 You've become resentful roommates instead of a loving couple
AND this is for you if:
💖 You're ready to try something new
💖 You're even willing to be WRONG if it means feeling connected again
💖 You really love the other person and want more closeness
💖 You're ready to get to know your partner in a whole new way
💖 You want your connection to feel sexy, not conditional!
💖 You're ready to be a team again
Here's what we've learned: the more you can 'be with' your own emotional experience instead of it erupting out at your partner, the more you can hold space for your partner, the more you can build trust that you both get a turn to be heard, THEN the more you can work through the challenges you're experiencing together.
We're excited to create an experience for you to lean in, feel connected and get excited again about the possibilities in your relationship.
In this workshop there will be playfulness and fun alongside hands-on practices that you'll be able to use immediately in your everyday life.
At the end of the workshop you'll be able to stay connected to yourself and your partner through the bumpy moments, and be quicker to reconnect afterwards.
You'll have more trust in your relationship, and more energy for your life and the good stuff in your relationship.
'They Said WHAT?!' is a 2-hour, hands-on experience, and it's free. You're welcome to come on your own, or with your partner or a friend, it's about all relationships!
Matt and I are here to help you find your love, teamwork, and connection all over again, so that you can come together feeling relaxed and valued, ready to take on the world together.
The workshop is absolutely free so that we can welcome as many of you as possible! -Go ahead and share this with your friends and community, and come to the workshop with all your questions.
People who come live will have the opportunity to be coached in person, to ask questions specific for their unique situation, and you will also be entered to win coaching prizes!
The workshop WILL be recorded and sent out for a limited time after the event, so if you would have loved to come but your schedule doesn't permit go ahead and get a ticket anyway!
Click the link to get your free ticket, invite your people, and we'll see you on the 9th!