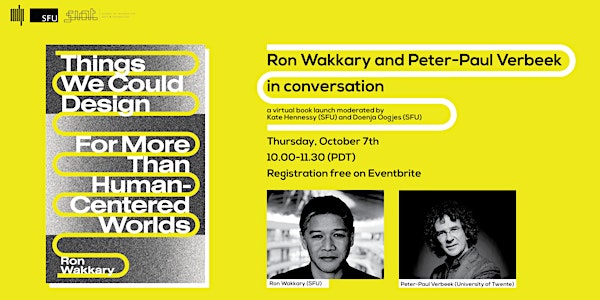 Things we could design: Ron Wakkary & Peter-Paul Verbeek in conversation
Join Ron Wakkary and Peter-Paul Verbeek in a conversation about Wakkary's book "Things We Could Design For More Than Human-Centered Worlds"
About this event
Due to unforeseen circumstances Prof. Paul Dourish is unfortunately unable to join the book launch. We are grateful to Prof. Peter-Paul Verbeek for accepting our invitation to continue the conversation.
Over the past forty years, designers have privileged human values such that human-centered design is seen as progressive. Yet because all that is not human has been depleted, made extinct, or put to human use, today's design contributes to the existential threat of climate change and the ongoing extinctions of other species. In Things We Could Design (MIT Press, 2021), Ron Wakkary argues that human-centered design is not the answer to our problems but is itself part of the problem. Drawing on philosophy, design theory, and numerous design works, he shows the way to a relational and expansive design based on humility and cohabitation. Wakkary says that design can no longer ignore its exploitation of nonhuman species and the materials we mine for and reduce to human use. Posthumanism, he argues, enables a rethinking of design that displaces the human at the centre of thought and action. Weaving together posthumanist philosophies with design, he describes what he calls things—nonhumans made by designers—and calls for a commitment to design with more than human participation. Wakkary also focuses on design as "nomadic practices"—a multiplicity of intentionalities and situated knowledges that shows design to be expansive and pluralistic. He calls his overall approach "designing-with": the practice of design in a world in which humans share centre stage with nonhumans, and in which we are bound together materially, ethically, and existentially.
Join us for a conversation between Ron Wakkary and Peter-Paul Verbeek as we celebrate the publication of this exciting new book.
Speakers:
Ron Wakkary is a professor in design in the School of Interactive Arts and Technology, Simon Fraser University in Canada where he founded the Everyday Design Studio (eds.siat.sfu.ca). In addition, he is a professor and Chair of Design for More Than Human-Centered Worlds in the Future Everyday Cluster in Industrial Design, Eindhoven University of Technology in the Netherlands. Wakkary's research investigates the changing nature of design and human-computer interaction in response to new understandings of human-technology relations and posthumanism. He aims to reflectively create new design exemplars, theory, and emergent practices to generously and expansively shape and understand ways of designing that are more accountable, sustainable, and equitable. Wakkary is the author of the book Things We Could Design for more than Human-Centered Worlds (MIT Press, 2021), a critical and creative speculation on how posthumanist design enables a world in which humans share center stage with nonhumans, with whom we are entangled.
Peter-Paul Verbeek is Distinguished Professor of Philosophy of Technology at the Department of Philosophy of the University of Twente. He is chair of the Philosophy of Human-Technology Relations research group and co-director of the DesignLab of the University of Twente. He is also honorary professor of Techno-Anthropology at Aalborg University, Denmark. His research focuses on the philosophy of human-technology relations, and aims to contribute to philosophical theory, ethical reflection, and practices of design and innovation.
Verbeek is chairperson of the UNESCO World Commission on the Ethics of Science and Technology (COMEST). He is currently one of the 6 Principal Investigators of a 10-year research program on the Ethics of Socially Disruptive Technologies. Among his book publications are Moralizing Technology: Understanding and Designing the Morality of Things, in which he analyzes the moral significance of technologies, and its implications for ethical theory and for design practices, and What Things Do: Philosophical Reflections on Technology, Agency, and Design, which investigates how technologies mediate human actions and experiences, with applications to industrial design.
Moderators:
Kate Hennessy is an Associate Professor specializing in Media at Simon Fraser University's School of Interactive Arts and Technology. As an anthropologist of media and the director of the Making Culture Lab, her research explores the impacts of new memory infrastructures and cultural practices of media, museums, and archives in the context of technoscience.
Doenja Oogjes is a PhD Candidate at Simon Fraser University's School of Interactive Arts and Technology. Her research explores the design of digital domestic technologies using speculative design and integrating indirect ways technologies mediate our everyday. In previous work, she proposed a design fiction informed by studies on domestic food practices as a way to reframe.
*The Zoom link will be sent directly to all registered guests on October 7th prior to the start of the event