About this Event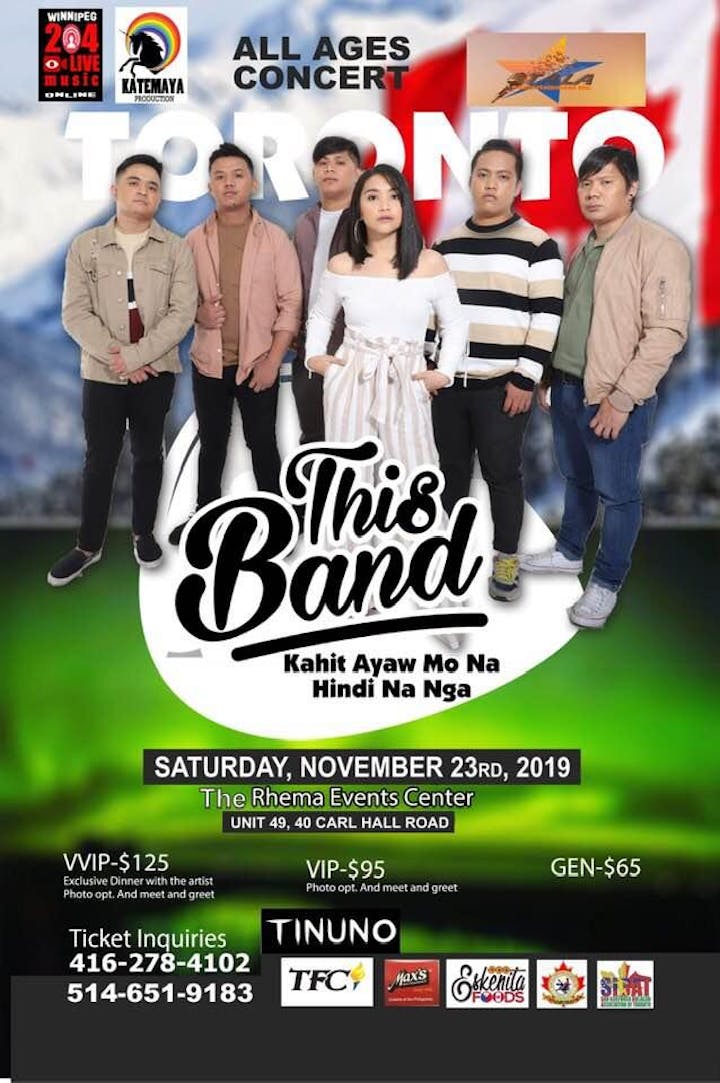 This Band live in Toronto Saturday November 23,2019 6pm at The Rhema Event Centre.
Hitting the Global Viral Charts of the streaming giant Spotify has become second nature to the Koreans and other Asians are also starting to make headway towards that direction. But admit it, such rarely happens in the Philippines. So when Kahit Ayaw Mo Na by This Band entered the Global Viral Charts after streaming its way through the Philippine Viral 50 charts, it was cause for celebration. Why it was even streaming in good numbers in Italy.
That was quite a feat. And it was by a band that was formed only a year ago in the town of Las Piñas named, would you believe it as This Band. You read that right, This Band. It is said that the members keep hearing themselves referred to as This Band, they decided to take on the name. And it looks like being This Band is doing them a lot of good that they might just become The Band of the moment.
This Band was founded by Euwie Loria on rhythm guitar; John Macaranas on drums and Miccael Galvan on bass. The trio was serviceable, but they knew they had to have a complete package to present during their gigs. Most particularly the vocalist, who has the right voice and style to showcase Loria's original compositions at its best.
That right singer came in the person of Andrea Manzano, a young singer who was also in search of the right sound for her voice. Andrea and the light soul pop music of This Band proved to be the perfect fit. A short while later, Melvin Carson on keyboards and Raymart Gubat on lead guitars came on board. And the package that This Band was looking for was finally complete.
Loria is proving to be quite prodigious with his songwriting. This early, they have already released four singles. Leading their line up is of course their breakthrough hit, the hugot love song Kahit Ayaw Mo Na. This is the song that broke into the global charts. It remains a huge big seller and was also tapped to be the theme song of the movie of the same title. There are also Bitaw Na, Tampisaw and their latest, Hindi Na Nga.
These songs are proving to be very good crowd drawers in This Band's gigs. That is the way to do it for any band aspiring to hit the big time. Find a solid footing with hit originals and the fans will follow. This Band has hit on the right formula. Songs of heartbreak rendered in Andrea's dusky tones with a light rock vibe. Turn out more of these and This Band will be around for a long, long time. And now, with the year 2018 on its last legs, here is what the Top 40 of the Philippine Music Charts Top 100 chart on Facebook looks like:
Buwan by Juan Carlos; thank you, next by Ariana Grande; Sa Ngalan Ng Pag-ibig by December Avenue; Kahit Ayaw Mo Na by This Band; Taki Taki by DJ Snake ft. Selena Gomez, Ozuna and Cardi B; Kathang Isip by Ben & Ben; Girls Like You by Maroon 5 ft. Cardi B; Love Someone by Lukas Graham; Kung Di Rin Lang Ikaw by December Avenue ft. Moira dela Torre; SOLO by JENNIE.
Malibu Nights by LANY; You Are The Reason by Calum Scott; Maybe The Night by Ben & Ben; Sana by I Belong To The Zoo; Bulong by December Avenue; Happier by Marshmello & Bastille; Thru These Tears by LANY; Kahit Di Mo Alam by December Avenue; 2002 by Anne Marie; Mundo by Ace of Spades.