Sales Have Ended
Registrations are closed
Thank you!
Sales Have Ended
Registrations are closed
Thank you!
Description
Private Members Event Only.
LEARN:
Chose from six interactive sessions focused on growth, marketing, management, and small business success. Lead by industry professionals, learn about best practices and new tools. Register for as many or as few (even just lunch!) sessions as you wish! Please click the green register button to select your free tickets. Deadline to Register: Friday, March 16th.
---

Speed Networking- A Quick way to expand your professional contacts.
Speed Networking works a lot like "Speed Dating" without the "Dating". A structured opportunity to meet accomplished professional like yourself, face to face, one business professional at a time. This session offers the perfect occasion to expand your business in a fast-paced, effective and fun way. We get you started by providing you an opportunity to meet new people in a small group, we give you the topics that are intended to act as ice breakers and you take it from there.
---

The Three R's of Content Recycling.
Reuse, remix, and repurpose your content and spend less on social media. Learn how to reuse, remix and repurpose your best content to stretch your hard work out. Once you've taken the time to create a piece of content, like a blog post or a video, make the most of it by spinning it into different formats and attract different people with each one. It may seem like a lot of work, but recycling content will save you oodles of time in the long run!
---

Telephone Talent: Essential Phone Skills for Business Owners.
The phone remains a valuable tool for building relationships with both customers and prospects. In this workshop, The Phone Lady will share the most important skills you need to make your phone calls effective. Topics include:
• Three main challenges to phone communication today
• Leaving messages that get returned
• Quickly capturing the full attention of prospects
• Inspiring conversation with prospects
• Booking appointments
• ... and more
---

Workplace Sexual Harassment: Prevention, Reaction and the Law.
In recent months the mainstream media has reported several stories of high-profile workplace sexual harassment allegations which have brought this common workplace issue back to the forefront. Business owners need to know what the rules are, what steps ought to be taken to prevent harassment, and how to respond appropriately. Join Blois, Nickerson & Bryson LLP lawyers Ian Joyce and Grace Allen for a crash course in the law of sexual harassment.
---

Using Predictive Analytics to Hire more Effectively.
Join David Osborne from Predictive Success for a session focused on helping you hire more effectively using Behavior Analytics. Participants will be invited to complete a complimentary Predictive Index Leadership Assessment prior to the event and will have the results given to them at the session.
---

Cannabis at Work - Your Rights & Responsibilities.
Medical Cannabis and the impending legalization of recreational cannabis in Canada can have great implications on our workplaces. Employers need to ensure they are educated on how to manage both medical and recreational use by employees. In this session, Workplace Drug & Alcohol Consultant Nadine Wentzell will provide the tools to mitigate risk in your business.
---


INSPIRE:
Enjoy lunch with inspirational keynote speaker Liam Byrne,
Co-Founder and CEO of the Entrepreneurial Development Conference and Expo (EDCE), Canada's largest conference for small business. An Atlantic Business Magazine Top 50 CEO, and EY Entrepreneur of the Year Nominee, Liam has founded six of his own businesses. He is an entrepreneurship mentor, was recently inducted into the Forbes Council and will deliver his inspirational & motivational keynote: "Money is Only a Byproduct".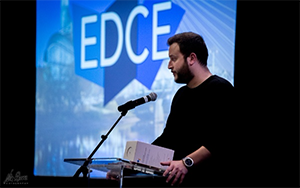 Sponsored by:



---


CONNECT:
Last year, more than seventy Sackville business owners/managers attended THRIVE. This event is a great opportunity to meet, connect, and learn more about the Sackville business community.
---
Thanks to the support of our sponsors, this opportunity is being brought exclusively to SBA members at no charge.
Please note: Space is limited. Maximum two attendees per business.