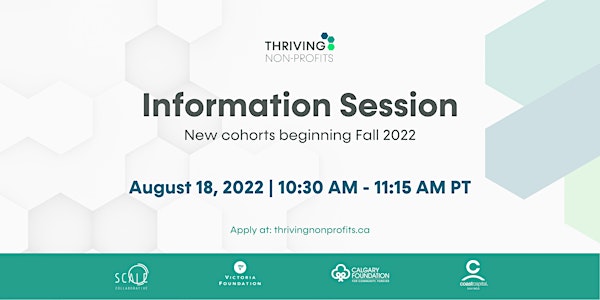 Thriving Non-Profits Community Information Session
Information session for Canadian non-profits and charities interested in learning more about the Thriving Non-Profits program
About this event
The non-profit sector is under considerable strain to deliver programs and services that address communities' most challenging problems on a shoestring budget, but it doesn't have to be that way.
Thriving Non-Profits is a 4-5 month cohort program created by non-profit leaders for non-profit leaders that explores nine entrepreneurial revenue diversification strategies. Participating organizations take part in online learning, interactive webinar sessions, and receive expert coaching to create a revenue diversification action plan customized to their specific circumstances. Each learning module integrates the real-life experience of leaders who understand the complexities and challenges of the non-profit sector.
This fall, Thriving Non-Profits will host two cohorts:
British Columbia: organizations serving Vancouver Island & the Gulf Islands (hosted in partnership with Victoria Foundation and Coast Capital Savings)
Canada-wide: organizations serving communities in other regions of Canada
This winter, Thriving Non-Profits will host a cohort in:
Alberta: organizations serving the Calgary region (hosted by Calgary Foundation)
This free information session will consist of a 30-minute presentation about the program followed by a 15-minute question and answer period.
Join the session to see if the Thriving Non-Profits program is a fit for your organization!
Thriving Non-Profits is presented by Scale Collaborative and supported by community partners. Thank you to the Calgary Foundation, the Victoria Foundation, and Coast Capital Savings for supporting our fall 2022 cohorts.
Testimonials from program participants
"I would highly recommend Thriving Non-Profits program. The education and learnings have been incredible, building on our foundations to date, and giving us the tools to move ahead, diversify and build stronger for the future."
"The program is great—the modules are well considered. The various modes of information sharing really add to the value of the program. I appreciate each and every opportunity—self-learning, group learning, shared learning and agency-specific planning. Thank you!"
Learn more and apply at: https://thrivingnonprofits.ca