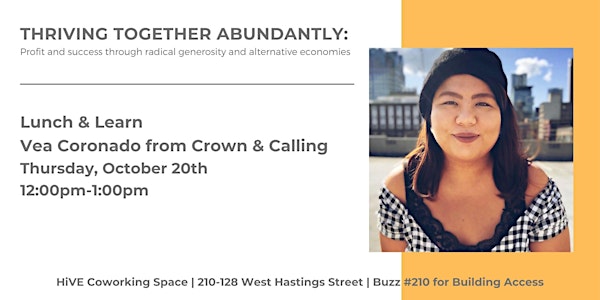 Thriving Together Abundantly: Profit and success through radical generosity
HiVE Lunch & Learn
When and where
Location
HiVE Vancouver 128 W Hastings St Vancouver, BC V6B 1G8 Canada
About this event
Join our one-hour, small-group get together where we can get to know each other and find ways to support each other's business and projects. Bring your own lunch, meet other freelancers and entrepreneurs then listen to a 15-minute presentation from the speaker, followed by Q&A and discussion.
About the Presentation:
With the rising inflation and class disparity, it's clear that the economic system is not working for everybody. Currently, profit-driven business models often aggregate wealth and resources in the hands of the elite, making it difficult to thrive as small business entrepreneur or a freelancer. But what if there are ways for us to succeed, not as individuals competing in scarcity, but working together collectively in abundance? Discover and discuss ways to incorporate alternative economies and radical generosity in your business and work. There will also be free and concrete resources available to help you strategize on your business plan and service offering.
This event is ideal for all business owners, freelancers, and those starting their journey in self-employment and entrepreneurship.
About the Presenter:
Vea Coronado runs Crown and Calling and provides one-on-one accompaniment to entrepreneurs and creatives. With over 10 years of experience in communications, business operations, strategy and social impact, Vea will be providing insights with how she and her clients navigate alternative economies to thrive within their careers and business.
Visit www.crownandcalling.com for more information about Vea.