Join Throwback Cinema for their holiday screening of HOME ALONE!
About this event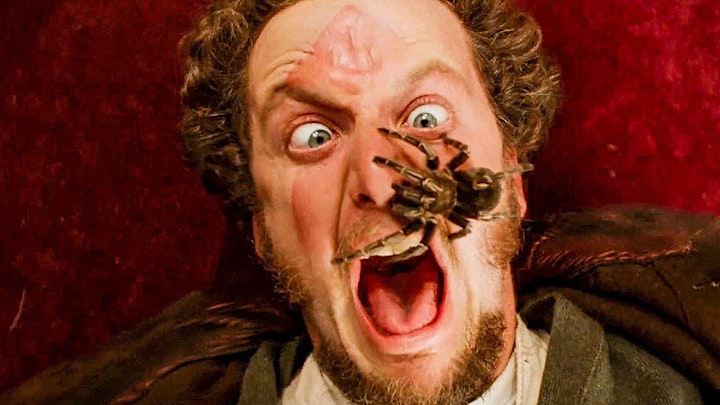 8 year old Kevin McAllister can't get any respect: his older siblings bully him, his cousins are annoying, and his parents are too preoccupied with preparing for their family Christmas trip to Paris. When he awakens in the attic and finds his entire family gone, Kevin realizes he'll be home alone for the holidays--but the notorious 'wet bandits' who've targeted his house to burglarize are determined to keep him company. Can Kevin outwit the burglars, and will his family ever come back? A smash hit when it was released 31 years ago, Home Alone became an instant classic and made Macaulay Culkin a kid superstar. Join us for the millennial classic Christmas movie and see Home Alone as it was meant to be seen, on the big screen! --CRYSTAL MADORE
About The Film
Throwback Cinema presents HOME ALONE
1990, 103 min. Rated PG
Directed by Chris Columbus
Starring Macaulay Culkin, Joe Pesci, Daniel Stern, Catherine O'Hara
Saturday December 11 at 4:00 PM
*This event will operate at full capacity!
As part of the provincial government's vaccine certificate program, which was announced in September, everyone will be required to show that they received both doses of an approved COVID-19 vaccine at least 14 days earlier in order to enter the cinema for this event.
Everyone must bring either their paper vaccine receipt or PDF vaccine receipt available online, along with photo ID to prove that they have been fully immunized.
Regular admission applies. For INDIVIDUAL MEMBERSHIPS ($350) and FAMILY MEMBERSHIPS, please email us at info@revuecinema.ca to get a ticket!
Organizer of Throwback Cinema: HOME ALONE
The recently renovated Revue Cinema is Toronto's premier not-for-profit community cinema. We offer great second-run Hollywood fare, insightful programming like our Silent Revue series — where classics from the silent era are accompanied on live piano — Food in Film, Designing the Movies, annual galas, retrospectives & numerous other community offerings. The Revue opened in 1912, making it the oldest operating cinema in Toronto. Support us by becoming a member & enjoy great perks throughout the entire year!