Description
CIM Toronto Branch presents
David Harquail, CEO of Franco-Nevada
who will be speaking on
Why we need the World Gold Council
at The National Club, 303 Bay Street, Toronto, ON M5H 2R1
11:45 a.m. Registration and Networking / 12:15 p.m. Lunch
12:55 p.m. Presentation / 1:25 p.m. Q&A and Networking
Why We Need the World Gold Council?
The World Gold Council is the market development organization for the gold industry. Its purpose is to stimulate and sustain demand for gold, provide industry leadership and be the global gold authority on the gold market. Based in the UK with operations in India, the Far East and the US, the World Gold Council is an association whose members comprise the world's leading gold mining companies.
Mr. Harquail will discuss the importance of why we need the World Gold Council. During his presentation he will address the challenges and norms of the investment community, including the push back from financiers who judge the mining industry poorly on one day then invest in curious businesses the next.
David Harquail
David Harquail is CEO of Franco-Nevada Corporation, a role he has held since he led its successful $1.3B initial public offering in 2007. Franco-Nevada has since grown into the leading precious metals royalty company with a market value exceeding $26B. He is also Chair of the World Gold Council which works to stimulate the demand for gold on behalf of the world's leading gold producers. He is currently active as a director of BMO Financial Group and as a cabinet member of the United Way's Greater Toronto Campaign. He is also the benefactor of the Harquail School of Earth Sciences and its Mineral Exploration Research Centre at Laurentian University in Sudbury as well the at the Harquail Centre for Neuromodulation at Sunnybrook Health Sciences Centre in Toronto. He graduated as a Geological Engineer from University of Toronto and as an MBA from McGill.

Early Bird Discount ends on February 17th, 2020.
Limited Seating Available. Register today.
Early Bird Discounts: $50 Members, $65 Non-Members, $20 Students
After February 17th: $65 Members, $80 Non-Members, $35 Students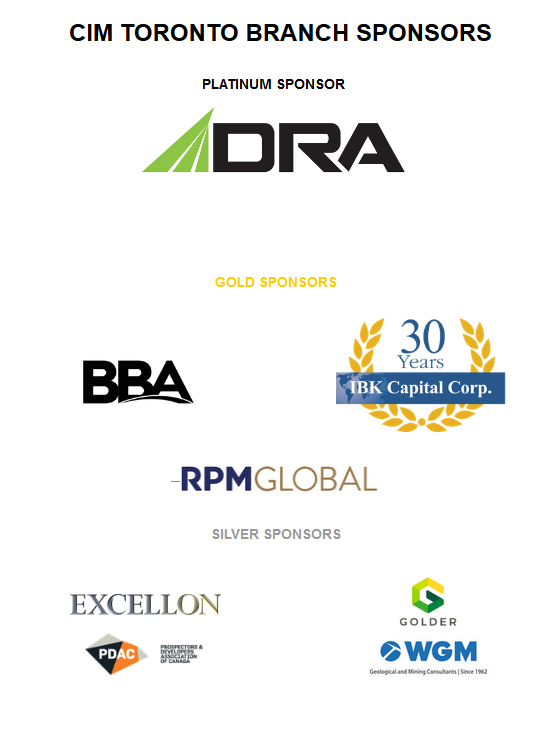 Please note that CIM Toronto membership is separate from CIM National membership.
Cancellations are not permitted within 72 hours of the event.