Come Out To Your First Post-COVID Indoor 420 Friendly Comedy Show!
About this Event
Vapor Central, Canada's longest standing cannabis friendly comedy club is back!
We're returning with a full roster of new shows full of crowd favorites and new faces!
Jon Malanos returns to our smoked-out stage every Thursday for "Thursday Night Smokedown"
New lineup every week, follow us on Instagram to see who will be on stage next!
IG: @vaporcentral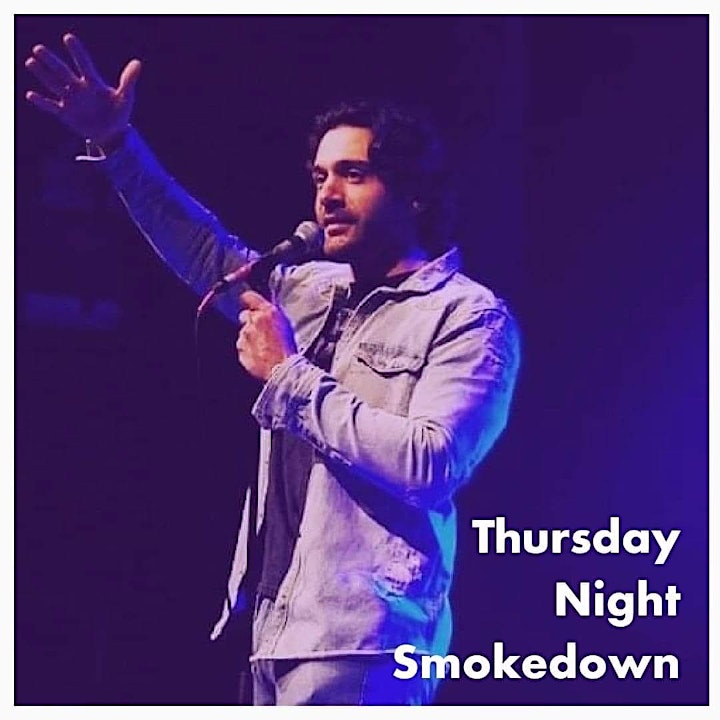 COVID 19 Safety Measures Update |❗Please Read❗
Dear Guests and Performers,
Thank you again for your continued support of our lounge! We've heard your concerns and we are constantly trying to make VC comfortable for Toronto's stoners.
We've worked very hard to make sure our lounge is a safe place for our guests to sesh and laugh!
Firstly, we've rearranged the room so each party will be AT LEAST 6ft apart from eachother. We also ensured none of our guests are facing eachother, so even if a weed cough slips out, you will never need to worry about a stranger coughing on you or your table. That being said, we have a strict cough covering policy in effect!
We're also doing contact tracing to ensure we are acting as responsibly as we can.
We're working with Citron Hygiene, one of Canada's leading cleaning supply companies, to ensure all of our cleaning practices and products are both hygenic and COVID safe!
The whole room is sanitized every night and every morning as well.
Now on to the unique stuff that were doing vs other bars and restaurants...
We've added 2 new air filters (to our existing 6) which means we have over 8,000 CFM of 2 stage air filtration. We also added two new 1000+ CFM fans to help move and direct all air towards our filters and away from guests.
All air in the room is scrubbed and recycled every 2.5 minutes. Our giant exhaust fan also ensures at least 1000 cubic feet of fresh new air is being pulled in to the room every minute...at VC you will NEVER meet the same air particle twice 😊. The room may sound like a jet engine now but we're happy to sacrifice a few decibals for our guests' and staffs' safety!
We're also doing temperature checks at the door starting today and staff will be required to do a COVID test once a week.
We get it if you're on the fence about visiting but we don't believe that our lounge is inherently more dangerous than any other bar.
As activists for cannabis normalization we believe it is imperative to challenge the hypocrisy that cannabis lounges pose more risk than alcohol bars when properly managed.