Tibetan Culture Immersion (Echoes of the Sacred): Sand Mandala, Open Discus...
Description
This FREE 3-day event is brought by Palyul Toronto and co-sponsored by University of Toronto Robert H. N. Ho Family Foundation Center for Buddhist Studies. It offers a rare opportunity to be immersed in Tibetan culture through the unique artistry of making a sand mandala, five movies about Tibetan Buddhism and Himalayan culture, and an open discussion on Buddhist wisdom in our lives which may challenge some assumptions we habitually make. There will also be an opportunity to explore cultural arts and crafts at the mini bazaar throughout the three days.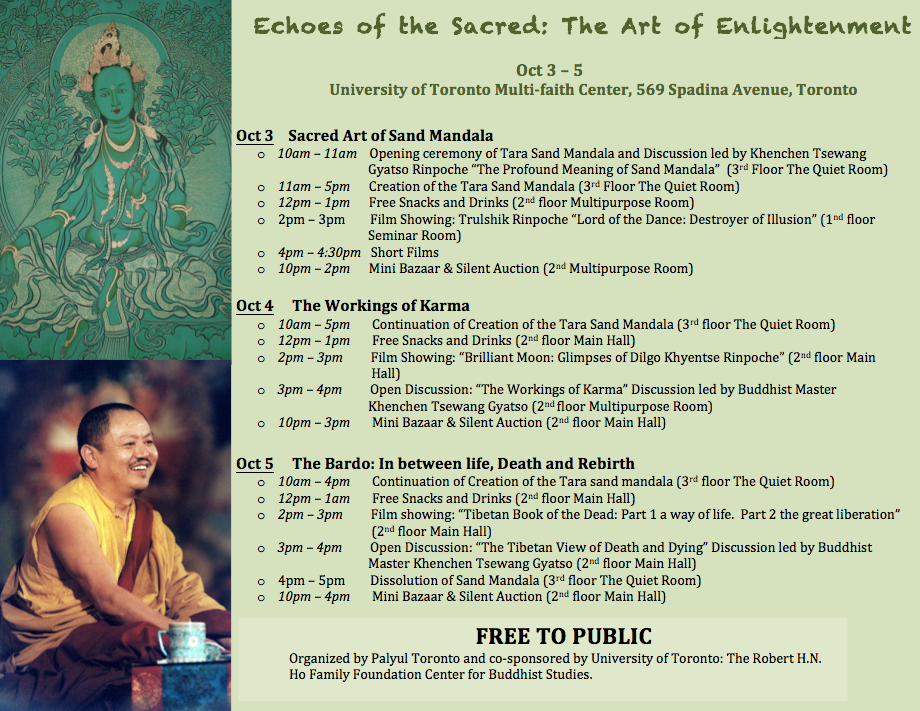 Sand Mandala and Green Tara
The creation of a sand mandala is a rare and beautiful practice that requires extensive training in rituals. From Wednesday October 3rd through Friday October 5th, Tibetan monks will create a Green Tara mandala for happiness, peace and prosperity. Students and visitors are invited to come watch as the monks build this ritual artwork by hand. The "sand" is actually mostly colored marble ground to a powder, sometimes with other precious substances.
Tara is a female Buddha whose qualities include enlightened action and swiftly removing obstacles to our spiritual growth, happiness, health and prosperity. The sand mandala represents the sacred space that is Tara's universe, and in creating the mandala we invite Tara to be present.
By TTC
1. Go to the Spadina Subway Station on the Bloor-Danforth Line (now called Line 2)
2. Board a streetcar inside the station (please be aware of the new Proof-of-Payment requirements).
Parking options
Street Parking on Russell Street, Huron Street, and Spadina Avenue. 3 hour limit, metered parking
Disembark at Willcocks Street, cross to the east side of Spadina Avenue, and walk south to #569.
Hosted by Palyul Toronto and University of Toronto Center for Buddhist Studies
Contacts
Palyul Pema Mani Center
59 Ingleside Drive, Toronto, ON, M3K 1A2
Tel: 416-259-7264
416-508-9754
647-835-3609
Email: palyulpemamani@gmail.com
www.palyultoronto.org