About this Event
REGISTRATION IS OPEN! DANCE ENTHUSIASTS OF ALL SKILL LEVELS ARE WELCOME TO JOIN! IT'S FREE FOR ALL COMMUNITY MEMBERS. IF YOU HAVE EVER WANTED TO TRY CARIBBEAN DANCE.....THIS IS YOUR CHANCE!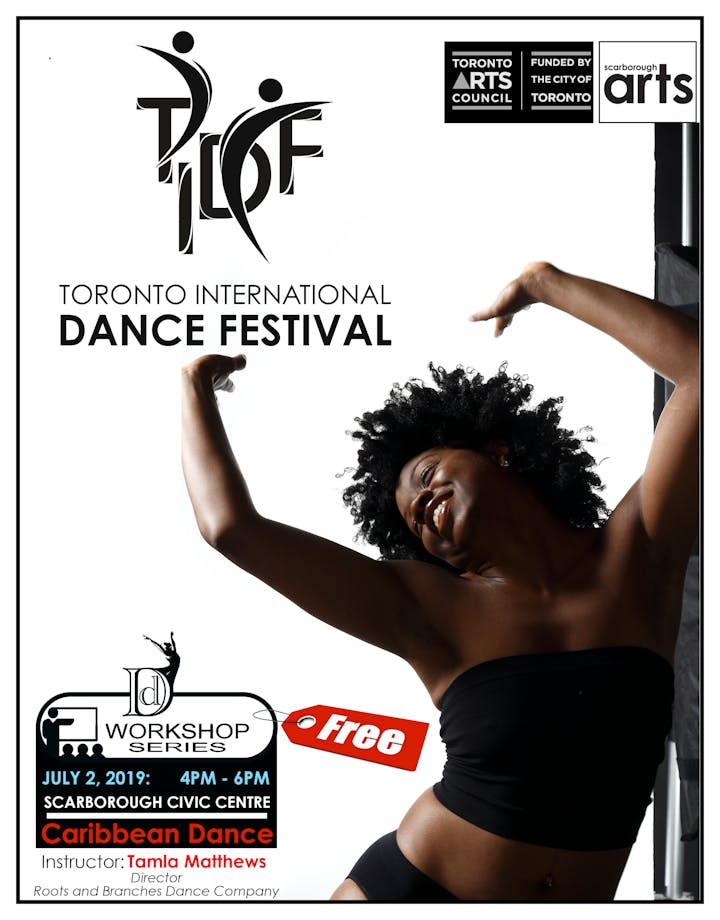 Toronto International Dance Festival 2019 (Outdoor Summer Festival ) from July 1 (Starting with Canada Day Celebrations @ Albert Campbell Square ) followed by different types of Dance Workshops (throughout the week from July 2-5 @ Scarborough Civic Centre) and end by July 6 | 7 (Outdoor Summer Festival @ @ Albert Campbell Square).
This Roots and Branches Fundamentalz dance workshop will introduce Caribbean Canadian culture through dance, music and movement. Using drums to explore traditional and contemporary Afro Caribbean dance, participants of all stages and ages will explore an array of Afro Diasporic dance vocabularies with a focus on musicality, intention, and rhythm. This workshop includes live drums and is co facilitated by Tamla Matthews and members of the Roots and Branches performing core.
This workshop is FREE of cost and open to the public. Dancers and non-dancers of all skill levels are encourage to attend. The aim of the workshop is to engage the community with local artists and art forms.
She will also perform at the Albert Campbell Square on Saturday July 6th during the Outdoor Summer Festival.
All are invited.
**Please wear comfortable clothing as the dance workshop may require stretching. Workshop does not require any shoes or footwear.**