About this Event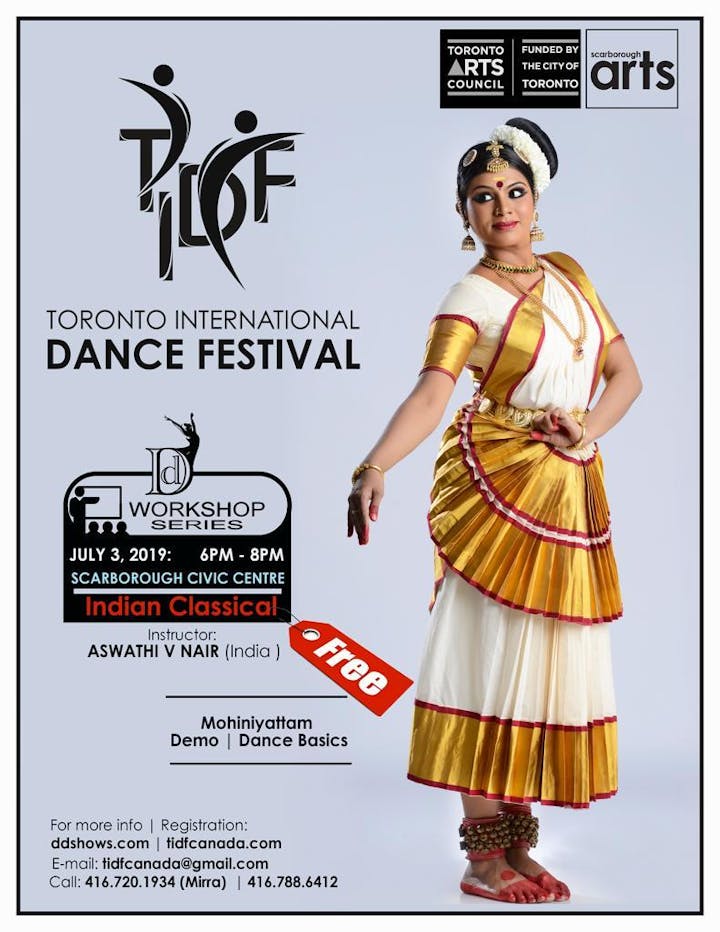 Toronto International Dance Festival 2019 (Outdoor Summer Festival ) from July 1 (Starting with Canada Day Celebrations @ Albert Campbell Square ) followed by different types of Dance Workshops (throughout the week from July 2-5 @ Scarborough Civic Centre) and end by July 6 | 7 (Outdoor Summer Festival @ @ Albert Campbell Square).
Aswathy V Nair from Kerala India will conduct a demo and workshop on Mohiniyattam on Wednesday July 3 @ 6 pm.
Mohiniyattam, also spelled Mohiniattam , is one of the eight classical dances of India that developed and remain popular in the state of Kerala. Mohiniyattam dance gets its name from the word Mohini – a mythical enchantress avatar of the Hindu god Vishnu, who helps the good prevail over evil by deploying her feminine powers.
Mohiniyattam's roots, like all classical Indian dances, are in the Natya Shastra – the ancient Hindu Sanskrit text on performance arts. However, it follows the Lasya style described in Natya Shastra, that is a dance which is delicate, eros-filled and feminine. It is traditionally a solo dance performed by women after extensive training.
This workshop is FREE of cost and open to the public. Dancers and non-dancers of all skill levels are encourage to attend. The aim of the workshop is to engage the community with local artists and art forms.
She will also perform at the Albert Campbell Square on Saturday July 6th during the Outdoor Summer Festival.
All are invited.
**Please wear comfortable clothing as the dance workshop may require stretching. Workshop does not require any shoes or footwear.**
About the artist: http://www.srikanthaswathy.com/