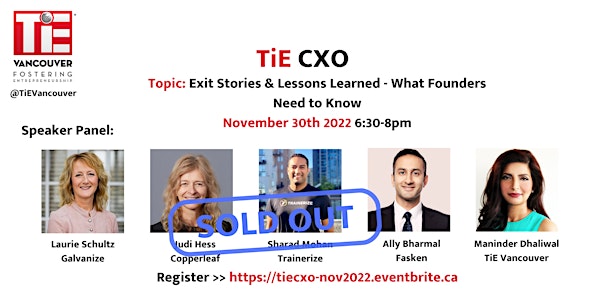 TiE CXO - Exit stories and lessons learned: What founders need to know
TiE Vancouver panel discussion on exit stories and lessons learned
When and where
Location
Fasken 550 Burrard St #2900 Vancouver, BC V6C 0A3 Canada
Refund Policy
Refunds up to 7 days before event
Eventbrite's fee is nonrefundable.
About this event
Exits matter because that's when the founders, the team and the investors get paid. To use a chess metaphor, we hear a lot about the "opening game" (lean startup) and the "mid-game" (growth), but very little about the "end game." As a result, founders miss opportunities or leave money on the table.
TiE is hosting a panel of entrepreneurs with successful exits to talk about lessons learned.
Speakers
Laurie Schultz - CEO Galvanize (successful exit, M&A $1.3B+)
Judi Hess - CEO Copperleaf (TSX IPO at $1B+ valuation)
Sharad Mohan - founder Trainerize (successful exit, M&A)
Ally Bharmal - Fasken (Exit expert)
Moderated by Maninder Dhaliwal - Managing Partner, Startup Studio Accelerator & Venture Fund; Founding Chair, TiE Vancouver Angels.
TiE Sponsor & Charter Member VIP Reception: 6:00- 7:00pm (not open to public)
Speaker Panel: 7:00-8:00pm
Networking: 8:00-9:00pm
About TiE Vancouver
TiE Vancouver Angels (TVA) is part of TiE Global Angels (TGA). TGA is an umbrella organization representing the TiE chapters worldwide and their affiliated angel groups. Founding chapters include Silicon Valley, SoCal, Boston, Atlanta, and Vancouver. Members include 1000+ active angels in the US and Canada, making us one of the largest early stage investing organizations in North America.
Our goal is to bridge Canadian entrepreneurs to global investors, and to provide Canadian investors access to global startups by leveraging the world's most extensive investor network.
TiE holds regular networking and educational events throughout the year - most of which are open to public. These events are offered to BC's tech community at a not-for-profit basis.
Entrepreneurs can apply to pitch TiE Vancouver Angels and TiE Global Angels here.
About TiE CXO
TiE CXO is aimed at BC's startup and scaleup operators, and includes public events with local experts, and roundtables with US CXOs. The programming is being offered in partnership with TiE Silicon Valley.
Currently, very few seed funded startups in BC go on to raise Series-A and beyond. This gap has a great cost for BC, and deprives our ecosystem of mid-sized technology companies that power the economy. With TiE CXO, we aim to utilize TiE's global network and resources to help with this issue.
TiE CXO offers learning, mentoring and networking opportunities for operators in startups and scaleups, including workshops and working sessions featuring local and global experts. TiE CXO programming is offered to BC's tech community at a not-for-profit basis.
TiE CXO Roundtables provide BC's CXOs an invitation-only, learning and networking access to the visiting US CXOs in a small group setting. BC CXOs can apply here.
About TiE Vancouver Membership
TiE Vancouver offers Charter Membership for individuals, and Corporate Membership for organizations. Join us by becoming a member.
About TiE Global
TiE (The Indus Entrepreneurs) was founded in Silicon Valley in 1992 by entrepreneurs with roots in South Asia, and is currently spread over 62 chapters in 14 countries with 15,000+ membership consisting of Angels, VCs, Private Equity, entrepreneurs, and service providers. TiE Global Angels is one of the largest angel investor networks in the world. TiE's global impact includes over $70 billion USD follow-up capital investment, $1 trillion USD wealth created for founders and investors, over 2.5 million jobs generated, and over 25,000 startups supported worldwide.