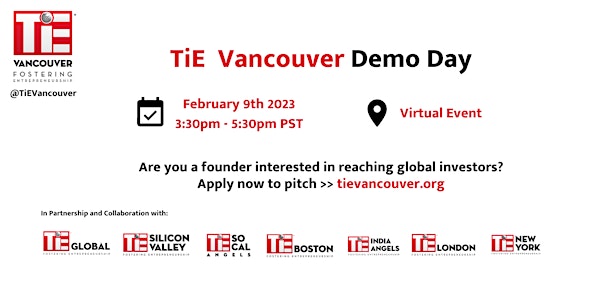 TiE Vancouver Demo Day
Opportunity for Canadian founders to pitch the largest angel investor network in the world!
About this event
TiE Vancouver Angels is a not-for-profit Angel investor forum with a mission to fund and foster Canadian entrepreneurs.
At TiE Vancouver Demo Day, selected founders will get an opportunity to present their companies to TiE Vancouver Angels, plus local, US and international guests from TiE's Extended Investor Network. Shortlisted companies will be invited to participate our due diligence process for funding. Projects with investor interest, and meeting the funding criteria will be referred to TiE Global Angels (TGA) for access to TiE's worldwide investor network.
Demo Day is free of cost for startups. There is no cost to founders to pitch and raise capital with TiE
If you an entrepreneur, please apply to pitch at >> https://tievancouver.org
About TiE Vancouver
TiE Vancouver Angels (TVA) is part of TiE Global Angels (TGA). TGA is an umbrella organization representing the TiE chapters worldwide and their affiliated angel groups. Founding chapters include Silicon Valley, SoCal, Boston, Atlanta, and Vancouver. Members include 1000+ active angels in the US and Canada, making us one of the largest early stage investing organizations in the world.
Our goal is to bridge Canadian entrepreneurs to global investors, and to provide Canadian investors access to global startups by leveraging the world's most extensive investor network.
TiE holds regular networking and educational events throughout the year - most of which are open to public. These events are offered to BC's tech community at a not-for-profit, at-cost basis.
About TiE Vancouver Membership
TiE Vancouver offers Charter Membership for individuals, and Corporate Membership for organizations. Join us by becoming a member.
About TiE Global
TiE (The Indus Entrepreneurs) was founded in Silicon Valley in 1992 by entrepreneurs with roots in South Asia, and is currently spread over 62 chapters in 14 countries with 15,000+ membership consisting of Angels, VCs, Private Equity, entrepreneurs, and service providers. TiE's global impact includes over $70 billion USD follow-up capital investment, $1 trillion USD wealth created for founders and investors, over 2.5 million jobs generated, and over 25,000 startups supported worldwide.