Our main exhibit "What Makes Us Who We Are?" is opened with pre-purchased timed entry!
About this event
Join us for the Re-opening of the Ken Seiling Waterloo Region Museum! Doon Heritage Village will be open for a quiet "Walk in The Park" experience with select buildings open for themed weekends on Saturdays and Sundays!
Tickets must be purchased in advance and are non-refundable to adhere to strict capacity limits .
Our main gallery exhibit is called "What Makes Us Who We Are?" and traces the 12,000 year human history of Waterloo Region, from Indigenous peoples, to community settlement at the start of the 1800s, to the manufacturing heydays of the 1900s, to the high tech sector boom of recent years.
Visitors will discover the reasons why people from around the world have immigrated to this region of Canada - whether they came for love, education, a better life, a new job or to find freedom.
Now until Thanksgiving, a Doon Heritage Village 'Walk in the Park' experience is included with the ticket. On Thursdays and Fridays enjoy a peaceful walk through the park with your bubble.
Join us Saturdays and Sundays for themed weekends in Doon Heritage Village with limited Village buildings reopening! Please note that farm animals will not be present for the village experience and outdoor washrooms remain closed (indoor museum washrooms are available), as they are too small to adhere to provincial and Region of Waterloo Public Health guidelines.
Tickets are available for 90-minute bookings and capacity is limited to enable safety protocols that include physical distancing and cleaning. Reduced hours of operation will be Thursday through Sunday from 12 to 4 p.m. The last available admission begins at 2:30 p.m. See below for a complete list of Village Themed Weekends!
Saturday, September 11 and Sunday, September 12 - Garden Bounty
The site's historic gardens are a marvelous product of our core of garden volunteers and Bob Wildfong – Doon's Head Gardener. Come tour the site gardens with Bob, and see how the gardens' bounty is used in period recipes throughout the village.
Saturday, September 18 and Sunday, September 19 – Skilled Hands
Doon is lucky enough to have many volunteers and staff members who are skilled in period handwork. From rug hooking to leather working, from knitting to blacksmithing, from embroidery to water colours, all these talents will be on display throughout the village. Come check out what skilled hands can produce.
Saturday, September 25 and Sunday, September 26 – To End All Wars
No one in Waterloo Country was left unaffected by World War One. Come hear about the recruitment tactics of the 118th battalion, the home effort, and the brave sacrifices of the local men and women who answered the call of King and country.
Saturday, October 2 and Sunday, October 3 – The Natural World
Come join us for the opening weekend of the Amazing Pollinators travelling exhibit. Explore the world of pollinators both in the exhibit and then in the historic village. Watch water colourists turn their hands to capturing the wonders of nature, and be sure to go on your own personal birdwatching tour – written guides are provided.
Saturday, October 9 and Sunday, October 10 – I'm glad there are Octobers
When you stroll the grounds at Doon on the Thanksgiving weekend and see the array of beautiful colours, you will quickly realize why Lucy Maude Montgomery's most popular character was "glad there are Octobers." While you are colour watching, why not also check out several of the locations used in the 1985 film featuring our favourite Anne. You may also enjoy the sights, sounds, and a few tastes of Thanksgiving. Waring pigtails is optional.
Tickets must be purchased in advance.
COVID-19 Precautions in Place for Your Visit:
Reduced visitor capacity
One-way direction flow through exhibit and village
Physical distancing maintained for all visitors and staff
Increased cleaning of common area surfaces
Availability of alcohol-based hand sanitizer throughout the museum and village
We ask all visitors to wear a face mask while on site to protect our staff and other visitors. Face masks, combined with hand washing and physical distancing can reduce the spread of COVID-19.
Information for Members:
Please book your visit in advance to reserve your place. Walk-in visits may be unavailable due to reduced visitor capacity.
Choose the date and time for your visit, then enter "MEMCODE" into the discount field and select your membership tickets. Verify account holder information and proceed to checkout.
Please note that your membership must be valid upon booking and presented to Guest Services staff when you arrive. Memberships must be valid on date of visit or access may be denied.
To renew your membership or if you are having trouble accessing your member tickets, please call us at 519-748-1914.
Please call us to inquire about applicable discounts, including members from reciprocal museum partners - 519-748-1914.
As per the Province of Ontario's document A Framework for Reopening our Province: Stage 2 they recommend that heritage institutions like the Region of Waterloo Museums collect this information for the purposes of contact tracing. This information would only be shared with the Ministry of Health and Long Term Care in the event that an individual who attended the museum tests positive for Covid-19, on our about the time you attended.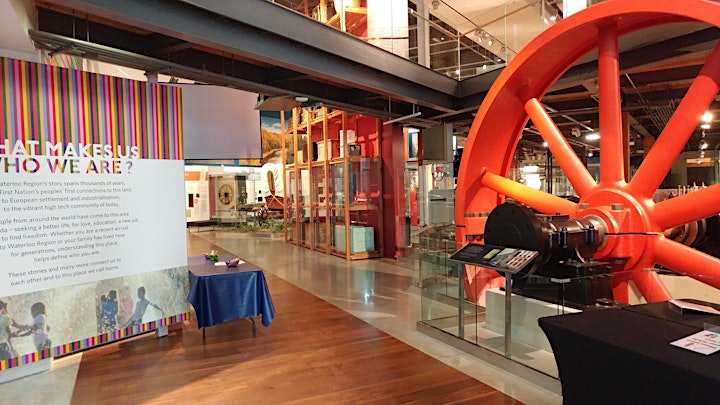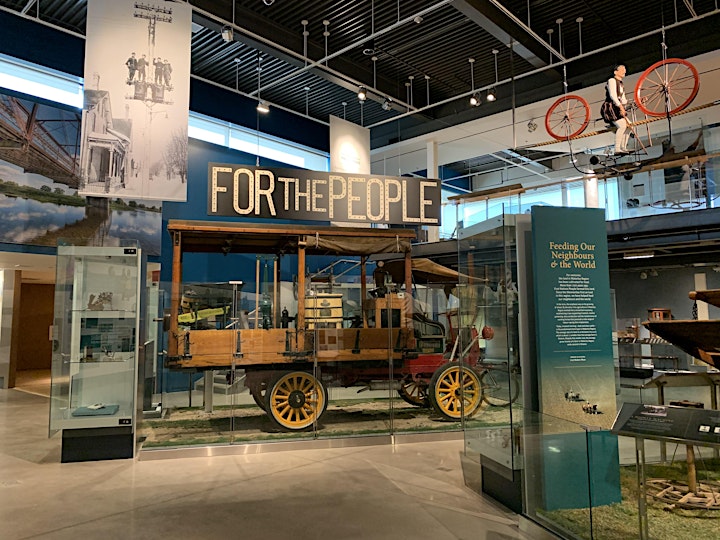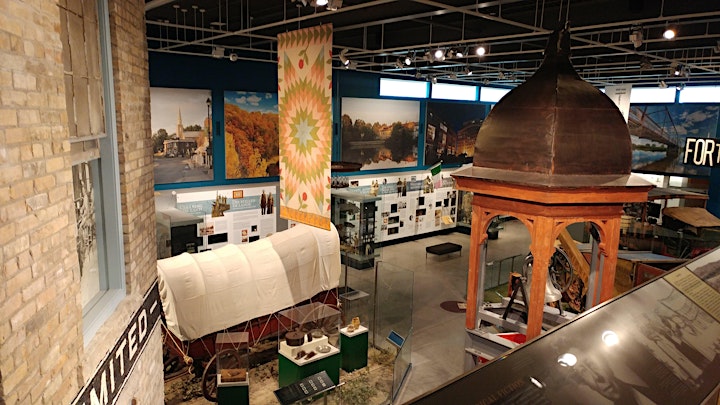 Organizer of Timed Tickets for Ken Seiling Waterloo Region Museum