Times Square Cabaret Vancouver - Lifestyles of The Rich and Famous

Sunday, 31 December 2017 at 6:00 PM

-

Monday, 1 January 2018 at 2:00 AM (PST)
Event Details
*** TIMES SQUARE CABARET VANCOUVER | Lifestyles of The Rich & Famous ***
A 6,000 sq.ft. Venue with 2 performance stages, and over 250-person capacity.
*** Dinner and Cabaret ***
7pm - 5 Star Dinner • Midnight Champagne
8:30 and 9:30 shows - Burlesque • Circus • Music • Magic • Fashion
Cabaret Performances from:
*** TIMES SQUARE COUNTDOWN DANCE PARTY - with DJ M Traxx and DJ Goodspin ***
RnB • Pop • House • Nu Disco • Funk •Top 40 • Reggae • Latin • Dancefloor Classics
Beer sponsored by
Peroni Nastro Azzurro
Wine sponsored by
Mission Hill Family Estate Winery
Champagne sponsored by
Henkell
Trocken
A new premium restaurant & socialite lounge offering Local, House-Made, Fresh Quality Food paired with both fine Imports and Local Craft Beers, Spirits, and Premium Service.
*** TIMES SQUARE CABARET MENU ***
Appetizer
Broadway Mixed Green​ ​Salad (w/Sliced Almond, Cherry Tomato, Organic Field Berry Dressing)
or Kabocha​ ​Squash​ ​Soup (Canadian Maple Sour Cream Topping)
Entreés
6oz​ New York Strip​ ​Steak (w/Garlic, Mashed Potato, Winter Roasted Vegetables, Chef-prepared Demi Jus) or
West 6th Chicken​ ​Breast​ (w/Fried Polenta, Mixed Mushroom & Truffle Jus) Or ​
Pan​ -Seared​ ​Arctic​ ​Char (w/Quinoa & Edamame Salad, Miso Yuzu Dressing with Garlic Toast) or
Pan​-Fried​ ​Gnocchi (w/Garlic Rapini Chili, Roasted Tomato & Parmesan, with Garlic Toast)
Dessert
New York City Cheescake (w/Wild Berry Compote) or
Sticky​ ​Toffee​ ​Cake (w/Vanilla Bean Ice Cream and Butterscotch Topping)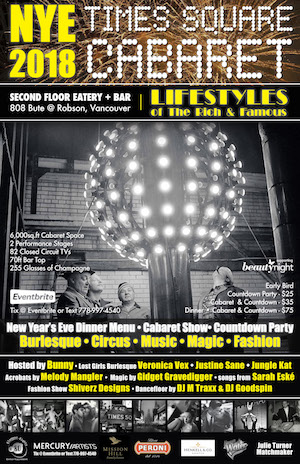 Venue map / Second Floor Eatery + Bar
77469757
Times Square Countdown Party & Dance - 10pm Entry (Early Bird)
77468382
Cabaret & NYE for 1 (Early Bird) 8:00pm Entry
77469433
Cabaret & NYE - Table for 2 (Early Bird) 8:00pm Entry
77469432
Cabaret & NYE - Table for 4 (Early Bird) 8:00pm Entry
77467360
Table for 2 - Dinner & Cabaret, Plus NYE Countdown (Early Bird)
77467361
Table for 4 - Dinner & Cabaret, Plus NYE Countdown (Early Bird)
77467722
Table for 6 - Dinner & Cabaret, Plus NYE Countdown (Early Bird)
77468380
NYE Dinner Only for 2
77468381
NYE Dinner Only for 1
Save This Event
When & Where

Second Floor Eatery + Bar
808 Bute Street
Vancouver, BC V6E 1Y4
Canada

Sunday, 31 December 2017 at 6:00 PM

-

Monday, 1 January 2018 at 2:00 AM (PST)
Add to my calendar
Organizer
Mercury Artists | Element-80 Entertainment Inc.
Element-Eighty Entertainment is the arm of Mercury Artists that produces, manages, and promotes special events, concerts, and festivals.  We manage shows for the artist we represent, for artists we collaborate with, and for the corpoate client that is looking to have a major event planned, and executed with flare.  We have developed strong relationships with venues and promoters across Canada, the US, the Caribbean, and most recently, Europe.  
We don't just book the venue, we provide and manage the talent, the sound sytems, engineers, and lighting technicians.  Element-Eighty Entertainment handles ticket printing and sales, e-tickets, marketing, and catering; both food and beverage.  We work with media outlets, such as television, print, and on the web to ensure that everyone knows when we are throwimg a party. 
The goal of Element-Eighty Entertainment is simple. We create, promote, and manage events that are safe, memorable, sound great, and have fantastic culture and  food.  Wherever possible, we endeavor to include charities, and fundraising with our events. Music, is supposed to bring us together after all.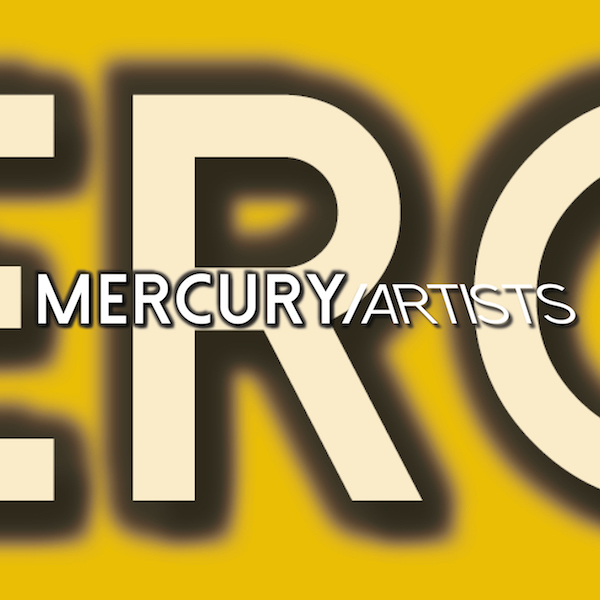 Times Square Cabaret Vancouver - Lifestyles of The Rich and Famous