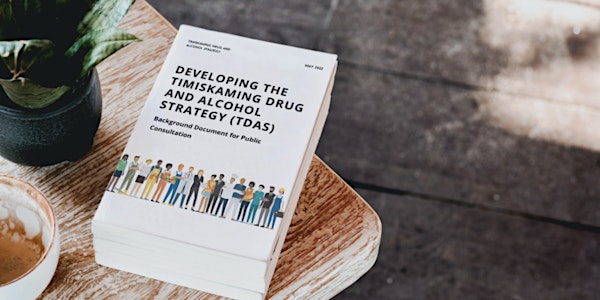 Timiskaming Drug and Alcohol Strategy - Community Consultation Webinar
Join us to discuss the draft recommended planning in our Timiskaming Drug and Alcohol Strategy Community Consultation Report.
About this event
Where: Zoom
When:
July 12th, 2022 at 1:30-3:00pm
July 12th, 2022 at 7:00-8:30pm
The presentation times will not differ in the content presented.
Who: Everyone! People who use or have used substances and their family and friends, folks who identify as Indigenous, community organizations, community groups, service providers and the general public.
What can you expect? A presentation from Steering Committee Co-Chairs on the contents of the report and an interactive experience allowing for feedback, comments and questions. All feedback will work to inform the final Strategy created.
The zoom link for the webinar time you select will be emailed to you the morning of July 12th, 2022.
Questions?
Email: TDAS@timiskaminghu.com
Phone: 705-465-4895
Website: https://www.timiskaminghu.com/90558/Timiskaming-Drug-and-Alcohol-Strategy-TDAS