Timothy Caulfield "When Celebrity Culture and Science Clash"

Sunday, 8 March 2015 from 3:00 PM to 5:00 PM (MDT)
Event Details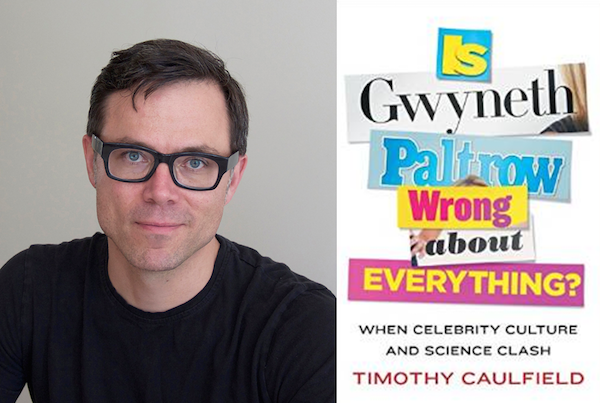 Timothy Caulfield is one of "Alberta's 50 Most Influential People 2014." Timothy Caulfield's explosive new book "Is Gwyneth Paltrow Wrong About Everything? When Celebrity Culture and Science Clash" challenges pseudoscientific and sometimes dangerous advice from celebrities. Canadian author, professor and health policy expert Timothy Caulfield spent a year not only extensively researching and talking to a myriad of experts, but also trying some celebrity-recommended health, diet and beauty routines. He will recount his personal experiences and present the scientific evidence, or lack of evidence for these programs.

Caulfield and his new book are making a difference with headlines such as "How Science tells us to Ignore Celebrity Endorsements" New Scientist, and "Caulfield Offers Straight-Forward, Science-Based Advice for Health and Wellness" MetroNews Canada.  He is also in high demand for media interviews. Recent Canadian interviews can be found in the Ottawa Citizen, Edmonton Journal, Huffington Post, CBC Radio's The Current, QR77's Kingkade and Breakenridge and many more.

About Timothy Caulfield: Timothy Caulfield is a Canada Research Chair in Health Law and Policy and a Professor in the Faculty of Law and the School of Public Health at the University of Alberta. He has been the Research Director of the Health Law Institute at the University of Alberta since 1993. Over the past several years he has been involved in a variety of interdisciplinary research endeavours that have allowed him to publish over 300 articles and book chapters. He is a Fellow of the Trudeau Foundation and the Principal Investigator for a number of large interdisciplinary projects that explore the ethical, legal and health policy issues associated with a range of topics, including stem cell research, genetics, patient safety, the prevention of chronic disease, obesity policy, the commercialization of research, complementary and alternative medicine and access to health care. Professor Caulfield is and has been involved with a number of national and international policy and research ethics committees, including: Canadian Biotechnology Advisory Committee; Genome Canada's Science Advisory Committee; the Ethics and Public Policy Committee for International Society for Stem Cell Research; and the Federal Panel on Research Ethics. He has won numerous academic awards and is a Fellow of the Royal Society of Canada and the Canadian Academy of Health Sciences. He writes frequently for the popular press on a range of health and science policy issues and is the author of The Cure for Everything: Untangling the Twisted Messages about Health, Fitness and Happiness (Penguin 2012) and Is Gwyneth Paltrow Wrong About Everything?: When Celebrity Culture and Science Clash (Penguin 2015).
When & Where

University of Calgary, Science Theatres (ST) 140
2500 University Drive Northwest
Calgary, AB T2N
Canada

Sunday, 8 March 2015 from 3:00 PM to 5:00 PM (MDT)
Add to my calendar
Organizer
The Centre for Inquiry Canada is a Registered Educational Charity that fosters a secular society based on science, reason, freedom of inquiry and humanist values. We strive to create awareness of these values and raise concerns about the absence of them.