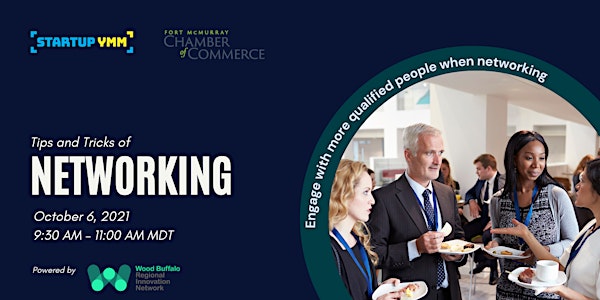 Tips and Tricks of Networking
Learn how to network effectively in this 1.5 hour virtual session.
About this event
This event is hosted by Startup YMM & The Fort McMurray Chamber of Commerce. It is sponsored by Wood Buffalo Regional Innovation Network, and Alberta Innovates.
Description:
Learn how to:
• Engage with more qualified people when networking.
• Be more efficient with your time when networking.
• Become the power broker in your circle of influence.
• Your ability to be memorable.
• Have engaging conversations that actually matter.
Facilitator's Bio:
Matthew has been involved in sales for over 12 years in roles ranging from Sales Representative to Vice President of Sales. Matthew's expertise is in training and coaching and has delivered training all over the world. He is also an accomplished public speaker having presented not only across Canada but in several countries including Germany, Sweden, Poland, and Mexico.
As the Vice President of Sales, Matthew started his sales team with five representatives and grew a sales force across three provinces while also helping that organization become one of the fastest growing companies in Canada.
--