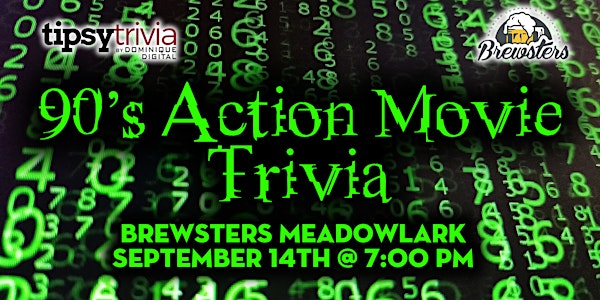 Tipsy Trivias 90s Action Movie Trivia - Sep 14th 7pm - Brewsters Meadowlark
"Dodge this..." Trinity, The Matrix
When and where
Location
Brewsters Meadowlark 15820 87 Avenue Northwest Edmonton, AB T5R 5W9 Canada
About this event
Welcome to the Rock!!
How it works:
From 'The Matrix' and "Con Air' to 'Lion King' and 'Jurassic Park', the 90s was one of the best decades for action movies ever!! Grab your tickets here to get your spot for our 90's Action Movies Trivia. You can play alone, or with a team of up to 6 people! Your team will answer questions on everything 90 ACTION MOVIES! We'll be handing out hundreds of dollars in prizes to the top 3 teams, and door prizes throughout the night! 
1 week before the trivia night takes place, we'll be sending out forms to all ticket buyers to register your team, but you still need to call the location and reserve your table. 
Tickets:
Early bird pricing: $5 +Eventbrite fees UNTIL September 12th. 
Tickets will increase online to $10 +Eventbrite fees roughly 48 hours before the event to include last minute accommodation efforts on both Tipsy Trivia and our venue's ends. 
Tickets will be available for $15 at the door if the event does not sell out online. 
Once you've purchased your ticket, you'll receive an email to register your team roughly a week before the event. You can register multiple people to your team, even if you have not purchased tickets in the same transaction. Please DO NOT register someone before they have purchased their ticket. This notice will be sent out 3 times before the event, but you only one member of your team needs to register your team once. If you do not receive the form to register (check your spam folder first), contact us via Facebook message, and we will get you sorted. 
If you have any questions, please take a look at our FAQ on Eventbrite or feel free to shoot us a message. 
Tipsy Trivia Event FAQ
Q: How do we register teams?
A: about a week before the trivia night, we will send out an email with a form to fill out. This means that if you've purchased tickets separately you can still reserve a table together. Team names, team sizes, and arrival times can all be selected at this time. We will send out a list of the team names the day before or of trivia so you can know if you got your first or second name choice. If both of your choices were taken, we will rename your team after your team captain, and you can change this at the event. 
Q: We want to change our team name, how do we do it?
A: You can resubmit the form you originally submitted and add a note saying 'UPDATED' 48 hours prior to the event. Or change your team name at the event.
Q: Our team has 6 people and another friend wants to come, can we be a team of 7?
A: No. We have the number of people at a maximum of 6 for a few reasons. 
1) To ensure ease of seating arrangements in different venues. 
2) Larger teams tend to get louder when trying to share answers, putting them at a disadvantage. 
3) Trying to keep things as close to equal as possible. Teams of 7,8,9 would likely fair better than teams of 2.
Q: Can I bring outside Food/Drinks? 
A: No. Bars and Restaurants prohibit outside food and drinks.
Q: It says 'No Cell Phones' during trivia, what if I use mine? 
A: We can't physically stop you from using your phones, however if you cannot refrain from using them during the question periods, your team may be disqualified from prizing. That means you can still play the trivia, but you cannot win the prizing. Servers, Managers and hosts are all watching for use of phones during question rounds.
Q: Can minors come to the trivia?
A: While Tipsy Trivia doesn't exclude minors, most venues licenses do. Please contact the venue about allowing minors. Standard entry rules and requirements of valid ID apply.
Q: I think that my answer should have been accepted for a question but it wasn't. Who do I talk to?
A: We research as much as possible to have the most accurate questions and answers. We will try to verify everything is correct before asking questions, but occasionally there will be discrepancies. If we are doing a movie trivia, we will not accept answers from the book and vice versa. Our primary source will be the movie/show and using the shows wikia for backup confirmation. Other sources will generally not be accepted. For movies with extended or director cut versions, we will specify which version that questions will be sourced from.
Q: I was unhappy with the service at the Bar/Pub where trivia was held. 
A: If there were problems with the quality of food or service, we would like to know as it is part of the overall experience for our events. While we will pass the information along to the venue, you must personally contact the venue if you would like any compensation. If venues are unable to accommodate the volume of our events, we will find venues better suited.
Q: I was unhappy with the host during trivia, who do I talk to?
A: If you were unhappy with the host, please bring it to our attention by contacting hello@tipsytrivia.ca we take these matters very seriously.