Enjoy an educational evening of connection and titillating conversation at the VIBF's exclusive take on TED Talks.
About this Event
TIT Talks is a one-of-a-kind event offering unique perspectives on burlesque. This intimate evening encourages compelling conversation and shares dimensions of being a burlesque performer that are seldom discussed publicly.
Ticketing Options
All-Access Pass: Enjoy the entire virtual festival! This pass gives you in to all of our workshop, a spot in the Anti-Oppression Progressive, and a virtual seat at TIT Talks and the Showcase. This is the option for fans who want it all!
Events Pass: Enjoy the shows! This pass gets you in to TIT Talks and the Anti-Showcase.
General Admission: Single ticket to the show. Enjoy!
Presentations:
The Lady Josephine - Selling Out
As a pro or semi-pro burlesque artist you have three often-opposing things crying for your attention: your audience, your vision and your bank account. After 10 years as an artist and mentor in the game of burlesque, I'm happy to offer insight into finding your personal balance between these things. Putting your audience first is crucial. So is feeling nourished as an artist. So is paying your rent. Let's talk about making burlesque work for you on all levels.
Minda Mae (she/her) - Digital Disabilibabes: Accessibility on (and off) the Virtual Stage
Curious about how to advocate for your accessibility needs and the needs of others on and off the virtual stage? Wondering how we all can work together to cultivate and maintain a space for every ability level? Whether you're a disabled performer navigating the performance world or an able-bodied producer who wants to create accessible events, we hope you will join Minda Mae, founder of the DisabiliTease Festival, as she shares some of her favorite tools, tricks, and know-how to create space for every disibilibabe in the digital world.
Calamity Chang - Branding 101– A Crash Course on Designing Your Brand
What makes a brand work, and how do you get out there? Calamity Chang brings years of expertise in branding, marketing and burlesque to this condensed presentation of her hit touring class. Delve into brand identity, content creation, marketing must-haves and basic design concepts for logo development. Explore how to give your content consistent tonality and learn best practices for standing out online. Get ready to grow your burlesque presence!
Androsia Wilde and Roxy Reverie - Diasporic Dynasty - Ushering in a New Era of BIPOC Burlesque Performance
As individuals weary of working in productions and communities that do not see us as priorities, what do we do? Diasporic Dynasty is our response. Not just a troupe but a collective mission, Diasporic Dynasty strives to decolonize stages, to be the actualization of our ancestors, and to welcome our diasporic siblings home. In this talk, we expand on what this mission means to us and the importance of autonomously creating, producing, and making space for BIPOC burlesque.
Mx. Pucks A'Plenty - Down with the Thiccness
My journey as a Fatlesquer and navigating an industry that says "Burlesque is for Everybody" but can feel very exclusionary to Fat bodies.
Faye Havoc - Who Framed Jessica Rabbit?: the Unexpected Intersection of Asexuality and Burlesque
We're here, we're queer, and there are more of us than you realize! Many of today's burlesque performers fall somewhere on the asexual - or "ace" - spectrum; behind the sparkling rhinestones, seductive movements, and shameless nudity, are passionate creatives who don't necessarily experience the carnal attractions or even romantic ideals they seem to embody onstage. What's it like being ace in a context so strongly associated with sexual desirability and presumed availability? What can the often-overlooked presence of asexuals in burlesque teach us about performance, glamour, consent, and our own assumptions of what - and who - is "sexy?" Faye Havoc shares from nearly a decade of experience navigating the world of burlesque as an awkward ace babe... and will even introduce you to the asexual community's theory that Jessica Rabbit - yes, the bombshell cartoon sex icon who launched a thousand tribute acts - could easily be "one of us!"
Q&A Section after each talk will be facilitated by Monday Blues. You will be able to submit questions in the chat during the presentation.
Closed captioning will be available for this event.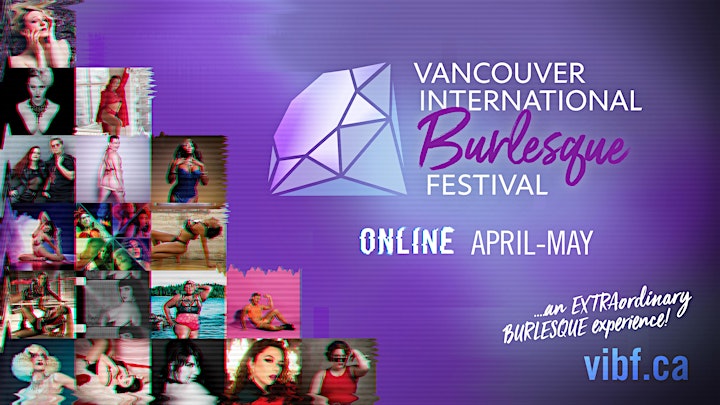 Date and Time
Location
Refund Policy