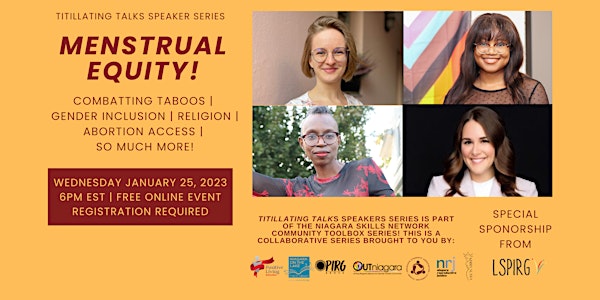 Titillating Talks - Menstrual Equity!
Menstrual Equity! Combatting taboos, gender inclusion, religion, abortion access, & so much more!
About this event
Titillating Talks...everything you were told was not polite to talk about! Join us every month for real conversations about the things that affect the health wellness of women and gender diverse people.
Reserve a ticket today! Tickets are free on Eventbrite, and you will be sent the Zoom link for the event.
Menstrual Equity!
Moderated by Kerry Goring, join Eve Nyambiya, Rachel Ettinger, and Kika DiGregorio as they discuss the topic of menstrual equity from local-to-Niagara, national, and international perspectives. They will talk about combatting taboos, gender inclusion, religion, abortion access, and so much more!
--
Details:
–
Speakers
Eve Nyambiya
Eve Nyambiya has worked with the Brock Human Rights and Equity team in multiple roles over the past three years. Starting as a Gender and Sexual Violence P2P team member, she became a strong voice in the Brock community. Eve is now the Gender and Sexual Violence Education Coordinator where she coordinates workshops, trainings, and events that educate students, staff, and faculty.
Eve graduated from Brock's Political Science program and has a long history of volunteering. Eve is currently volunteering with The Canadian Women's Foundation as the co-chair of their Youth Advisory committee and will now sit on their Rebuilding Lives Grants committee. She has also recently started her term with the District School Board of Niagara on their Equity, Inclusion and Anti-Racism Community Advisory Committee.
www.linkedin.com/in/eve-nyambiya | www.brocku.ca/human-rights/sexual-violence-2 | Instagram: @brockhre
Rachel Ettinger
Rachel Ettinger is a Founder, Advocate and Brand Builder, currently working at Unilever Canada across all Ice Cream brands, notably Ben & Jerry's. Fun fact: Ben & Jerry's actually partners with local organizations and groups and does advocacy work in Canada. Prior to Unilever, Rachel graduated with her MBA from Wilfrid Laurier University and was a morning radio personality at Virgin Radio for 6 years, in both Halifax, NS and London, ON.
She is the founder of a social enterprise called Here for Her, which focuses on health education and is soon to be called Here for Health. Rachel is a menstrual equity advocate and speaker, with experience implementing free menstrual product initiatives in school boards, universities and workplaces and at both the Municipal and Federal levels.
www.shophereforher.ca | Social Media: @ShopHereforHer & @RachEttinger
Kika DiGregorio
Kika DiGregorio (she/her) is a VITA™ Certified Sex, Love, and Relationship Coach. She helps people from all over the world (from Alaska to New Zealand!) feel more alive, turned on, and connected to themselves. She's also the host of The Kika DiGregorio Show.
Abortion Healing is a 3-session private coaching package designed to help you own your abortion story, feel at home in your body and find closure. Open to all genders. Learn more: www.kikadigregorio.com/abortion-healing.
www.kikadigregorio.com | Youtube: Kika DiGregorio | Instagram: @kikadigregario
Kerry Goring
Dubbed the Sexy Activist, Kerry Goring touches it all.
Youtuber and co-host of Medicine for the Resistance, a revolutionary podcast that is making a difference by lending a voice of disruption to the colonial narrative, Kerry wraps it up in a sensual package.
Mother, Glam-ma' and now a VITA Certified Sensuality Coach, Kerry is passionate about creating healing spaces for the racialized majority and queer folk.
Kerry uses her lived experience from her time in the adult industry, her training in Neurorehabilitation with the Brain Injury Association of Ontario, and her deep dive into the spiritual as a trained Sacred Leader, to provide trauma-informed support to her community.
www.linkedin.com/in/kerry-goring | Youtube: KerrySutraTV | Facebook & Instagram: @KerrySutra | Twitter: @Kerryoscity
–
Triggers, Online Safety, Accessibility, & Questions
The topics covered in this event can be triggering. We encourage people for both their mental and physical needs to take breaks, stand up, and move around as needed.
If you need addition resources, please check out this list: https://www.outniagara.org/community-support-resources/
This event is covered under the OPIRG Brock Safer Space Policy. If the organizing team decides you are in violation of the policy, your zoom account will be removed from the event. If this happens, and you wish to follow up, please email info@opirgbrock.com
If you have questions or need any additional support to attend or watch this event, please email dkrause@notlpl.org .
This event will be video recorded, and transcription/ subtitles will be available on the posted recording.
–
Huge thank you to LSPIRG for sponsoring & collaborating on this event!
Working on activism in Kitchener/Waterloo and Brantford, Laurier Students' Public Interest Research Group (LSPIRG) is a registered non-profit organization that helps to develop advocacy tools and avenues for action. Our vision is to act as a reliable support in building and sustaining movements that tear down systems of violence and replace them with equitable and just communities. We stand for anti-oppression, community care and activism.
A leader on Ontario campuses university campuses around menstrual equity activism, you can learn more about LSPIRG's Menstrual Equity Campaign here: www.lspirg.org/menstrualequity.
Follow the LSPIRG content & resources!
Website: www.lspirg.org
Facebook & Twitter: @lspirg
Instagram: @laurierstudentspirg
–
Support the Titillating Talks Series
If you would like to financially support the Titillating Talks Series (funds go to series speakers), please send an e-transfer to opirgbrockbookeeper@gmail.com and put "Titillating Talks Donation" in the e-transfer description. If you would like to donate via cheque or cash, please email info@opirgbrock.com.
The Titillating Talks Series is part of the Niagara Skills Network Community Toolbox Series, and is organized by the following community partners:
Positive Living Niagara
Niagara-on-the-Lake Public Library
OPIRG Brock
OUTniagara
Brock Graduate Student Association
Kerry Sutra
Niagara Reproductive Justice
with support from the Niagara Sexual Health Centres!
For more information about the Niagara Skills Network (NSN), please go to www.opirgbrock.com/niagara-skills-network. The NSN is sponsored by CUPE 4207.