Refund policy
Refunds up to 7 days before event
Tickets are still available here: https://bit.ly/TMLSAprHealthcare
About this event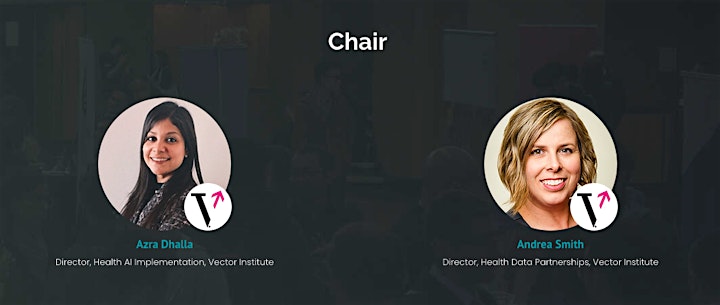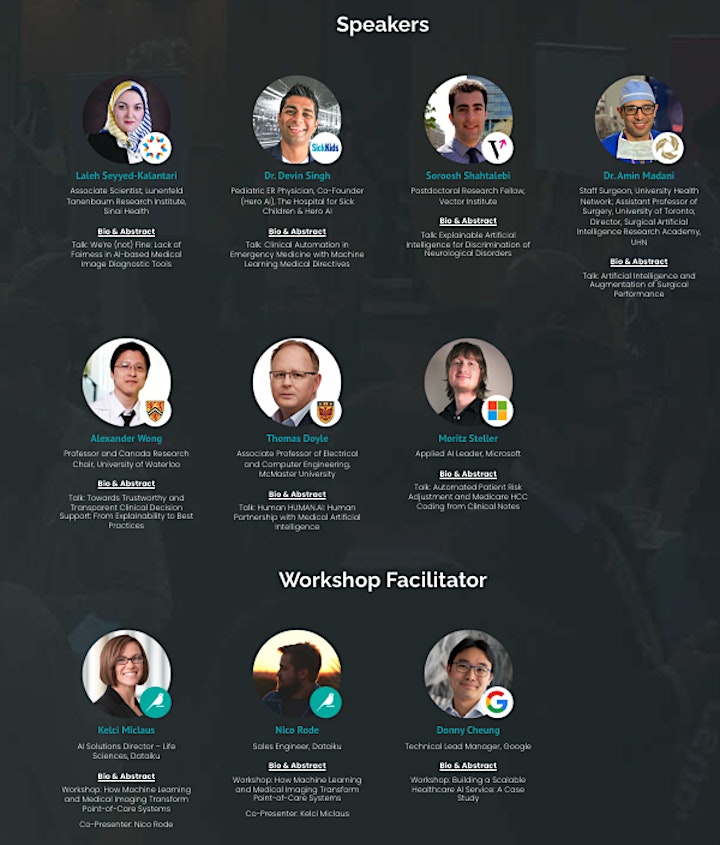 NOTE: This is an online event, once you purchase a ticket the link to the summit will be shared 2 days prior.
Join us for the Healthcare Machine Learning Community's annual gathering.
Speakers will explore applications of Machine Learning from both the business and technical areas of expertise.
How Machine Learning and Medical Imaging Transform Point-of-Care Systems
Kelci Miclaus, AI Solutions Director - Life Sciences, and Nico Rode, Sales Engineer, Dataiku
Abstract: 
Traditionally, radiologists manually review results from imaging scans such as X-rays, CT scans, MRIs, and ultrasounds in order to draw conclusions about a patient's medical condition. This is both laborious and requires great skill and domain knowledge for accurate diagnoses. In recent years, AI has shown promise to provide guidance from automated analyses of digital images/biomedical scans, due to advances in deep learning and image processing techniques. It also comes with great concerns around quality, accuracy, and responsibility in routine clinical care.
In this session, we discuss both the opportunities and challenges of using ML/AI in the healthcare sector around the rise of virtual care, digital health devices, and point-of-care clinical decision support systems. We will then walk you through a project that takes two different approaches to identify Tuberculosis in patient chest x-ray images.
What you will learn: 
Some topics covered during the session include: Key trends in Healthcare Custom image data processing to flatten images into tabular formats for analysis Comparing various deep learning algorithms to a simple logistic regression model for image analytic insights for disease prediction
Building a Scalable Healthcare AI Service: A Case Study
Donny Cheung, Technical Lead for Healthcare AI, Google
Abstract: 
Donny will talk through his experience building scalable cloud-based machine learning services using Google's Cloud Healthcare Natural Language API as a case study.
What you will learn: 
Gaining a better understanding of the challenges in building healthcare software services that incorporate machine learning models.
We're (not) fine: Lack of fairness in AI-based Medical Image Diagnostic Tools
Laleh Sayed Kalantari, Associate Scientist, Lunenfeld Tanenbaum Research Ins
Abstract: 
Artificial intelligence (AI)-based medical image diagnostic tools are trained to yield diagnostic labels from medical images. These tools have reached radiologist performance in diagnosis, which makes them a clear case for deployment due to the global radiologist shortage. In developing these tools a common practice is to optimize for and report the performance of the general population. However, doing so the state-of-the-art chest X-ray diagnostic tools trained on large public datasets fail to be fair naturally. We define unfairness as differences in performance against or in favor of a subpopulation for a predictive task (e.g., higher performance on disease diagnosis in White patients versus Black). We have shown AI models not only can detect the patient race from their chest X-rays but also behave against underserved (e.g Black) patients and misreport them healthy at a higher rate, potentially leading those patients denied care at a higher rate upon deployment.
What you will learn: 
Fairness analysis in AI diagnostic tools
Clinical Automation in Emergency Medicine with Machine Learning Medical Directives
Devin Singh, Pediatric ER Physician, The Hospital for Sick Children and  Co-Founder, Hero AI
Abstract: 
Importance: Increased wait times and long lengths of stay in emergency departments (EDs) are associated with poor patient outcomes. Systems to improve ED efficiency would be useful. Specifically, minimizing the time to diagnosis by developing novel workflows that expedite test ordering can help accelerate clinical decision-making.
Objective: To explore the use of machine learning–based medical directives (MLMDs) to automate diagnostic testing at triage for patients with common pediatric ED diagnoses.
Design, Setting, and Participants: Machine learning models trained on retrospective electronic health record data were evaluated in a decision analytical model study conducted at the ED of the Hospital for Sick Children Toronto, Canada. Data were collected on all patients aged 0 to 18 years presenting to the ED from July 1, 2018, to June 30, 2019 (77 219 total patient visits).
Exposure: Machine learning models were trained to predict the need for urinary dipstick testing, electrocardiogram, abdominal ultrasonography, testicular ultrasonography, bilirubin level testing, and forearm radiographs.
Main Outcomes and Measures: Models were evaluated using area under the receiver operator curve, true-positive rate, false-positive rate, and positive predictive values. Model decision thresholds were determined to limit the total number of false-positive results and achieve high positive predictive values. The time difference between patient triage completion and test ordering was assessed for each use of MLMD. Error rates were analyzed to assess model bias. In addition, model explainability was determined using Shapley Additive Explanations values.
Results: Models obtained high area under the receiver operator curve (0.89-0.99) and positive predictive values (0.77-0.94) across each of the use cases. The proposed implementation of MLMDs would streamline care for 22.3% of all patient visits and make test results available earlier by 165 minutes (weighted mean) per affected patient. Model explainability for each MLMD demonstrated clinically relevant features having the most influence on model predictions. Models also performed with minimal to no sex bias.
Conclusions and Relevance: The findings of this study suggest the potential for clinical automation using MLMDs. When integrated into clinical workflows, MLMDs may have the potential to autonomously order common ED tests early in a patient's visit with explainability provided to patients and clinicians."
What you will learn: 
In this presentation we will discuss the latest research published in JAMA Open (https://jamanetwork.com/journals/jamanetworkopen/fullarticle/2790164?resultClick=1) that focuses on enabling clinical automation in emergency departments through the use of a novel concept called machine learning medical directives. We will explore how these models were developed with a heavy focus on the translation and integration of machine learning models into clinical workflows. In addition, I will discuss the intersection between academia and industry by highlighting the journey of Hero AI and how these two worlds can truly fuel each other in healthcare by hyper-focusing on a patient-centric approach. Lastly, I will highlight important equity considerations and the risk of potentially expanding the digital divide with AI.
Artificial Intelligence and Augmentation of Surgical Performance
Amin Madani, Staff Surgeon, University Health Network; Assistant Professor of Surgery, University of Toronto; Director, Surgical Artificial Intelligence Research Academy
Abstract: 
Surgical complications are extremely common and one of healthcare's biggest source of morbidity, mortality and costs. Evidence suggests that most adverse events in the operating room have root causes related to errors in mental processes, such as judgment, human visual perception and pattern recognition. Recent advances in machine learning methodologies have made it possible to develop algorithms capable of advanced functions related to perception and cognition. In this presentation, we will explore how deep learning for computer vision can be used to provide real-time guidance to surgeons and augment their performance.
What you will learn: 
Various applications of surgical data science for improving surgical care
Use cases on AI for computer vision in the surgical field
Barriers for scaling the full potential of surgical data science to improve patient care
Explainable Artificial Intelligence for Discrimination of Neurological Disorders
Soroosh Shahtalebi, Postdoctoral Research Fellow, Vector Institute
Abstract: 
Pathological hand tremor (PHT) is a common symptom of Parkinson's disease (PD) and essential tremor (ET), which affects manual targeting, motor coordination, and movement kinetics. Effective treatment and management of the symptoms relies on the correct and in-time diagnosis of the affected individuals, where the characteristics of PHT serve as an imperative metric for this purpose. Due to the overlapping features of the corresponding symptoms, however, a high level of expertise and specialized diagnostic methodologies are required to correctly distinguish PD from ET.
In this work, we propose the data-driven NeurDNet model, which processes the kinematics of the hand in the affected individuals and classifies the patients into PD or ET. NeurDNet is trained over 90 hours of hand motion signals consisting of 250 tremor assessments from 81 patients, recorded at the London Movement Disorders Centre, ON, Canada. NeurDNet outperforms its state-of-the-art counterparts achieving exceptional differential diagnosis accuracy of 95.55%. In addition, using the explainability and interpretability measures for machine learning models, clinically viable and statistically significant insights on how the data-driven model discriminates between the two groups of patients are achieved.
What you will learn: 
How to statistically validate a machine learning model by means of explainability analysis.
Machine Learning Supported Tick Identification to Combat Lyme Disease
Vanessa Allan, Medical Microbiologist and Clinical Infectious Diseases Specialist, Sinai Health System
Abstract: 
A priority for public health is to enhance the systematic collection, analysis, and interpretation of data essential to delivering improved public health program and services. Production of data and the ability to convert that data into usable information at a large scale and in a timely manner can initiate appropriate public health action. In this talk, we will present the application of machine learning to the identification of ticks to enable early risk assessment and prevention of Lyme Disease. Conducted in collaboration with Vector and Public Health Ontario, this approach modernizes public health surveillance and response systems to harness the power and promise of user-generated data.
What you will learn: 
The application of machine learning can be used to improve access to tools for risk assessment and prevention of Lyme Disease
Towards Trustworthy and Transparent Clinical Decision Support: From Explainability to Best Practices
Alexander Wong, Professor and Canada Research Chair, University of Waterloo
Abstract: 
Recent years has seen tremendous breakthroughs and advances in AI for healthcare and medicine, ranging from clinical decision support to treatment planning to drug discovery. However, there continues to be a tremendous barrier to widespread adoption of AI solutions in the real-world clinical practice. One of the biggest challenges is trust and understanding by clinicians in the AI solutions themselves, especially given the critical nature of clinical care.
In this talk, I will speak about the challenges and opportunities towards trustworthy and transparent clinical decision support, and the latest innovations ranging from explainability to best practices in the context of clinical applications and use cases that will hopefully help us get one step closer to widespread clinical acceptance and adoption of AI solutions for human-machine collaboration-based clinical workflows.
What you will learn: 
You will learn about recent developments in AI for healthcare, the challenges with widespread adoption, methods and strategies for improving trustworthiness and transparency in clinical decision support systems.
Using Entity Extraction to Help Solve the Long COVID Puzzle
Sedef Akinli Kocak, Sr. Project Manager & Tech Translator and Elham Dolatabadi, Machine Learning Scientist, Vector Institute
Abstract: 
From the outset of the COVID-19 pandemic, social media has provided a platform for sharing and discussing experiences in real time. This rich source of information may also prove useful to researchers for uncovering evolving insights into Long COVID. In order to leverage social media data, this study explores entity-extraction methods to provide insights about Long COVID and addresses the gap between state-of-the-art entity recognition models and the extraction of clinically relevant entities which may be useful to provide explanations for gaining relevant insights from Twitter data.
What you will learn: 
How to utilize publicly-available user-generated conversations on social media towards capturing terms related to Long COVID symptoms, recoveries and experiences
How to utilize entity-extraction methods to provide insights into Long COVID experiences as expressed by patients.
How to compare performance capabilities of state-of-the-art models on existing datasets and how to use data augmentation to bridge gap between of human evaluation .
Human HUMAN.AI: Human Partnership with Medical Artificial Intelligence
Thomas Doyle, Associate Professor of Electrical and Computer Engineering, McMaster
Abstract: 
There is a wealth of research demonstrating the efficacy of AI for medical advisory systems. However, even some of largest entities in medical AI research and development have struggled to achieve generalizable models. The promise of individualized predictive health models and doctor in a box have not materialized. The vision of continuous wearable sensor monitoring for personal health quantification, elderly parent care, or remote medical support have suffered from a cacophony of standards and protocols. These efforts are further complicated by regulatory approval that is still struggling to define parameters for medical AI. Improved active autonomous medical and health advisory systems will broadly benefit human health and performance, regardless of whether the application is supporting an elderly person living alone, a medical resident training a new procedure, an attending physician proposed treatment confirmed with best practice literature, a surgical team managing a rapidly evolving medical event, or a crew of astronauts managing their health and performance on long duration deployment.
What you will learn: 
Attendees will learn about the burgeoning field of human-AI partnership in medicine, challenges, related research, and future directions.
Automated Patient Risk Adjustment and Medicare HCC Coding from Clinical Notes
Moritz Steller, Applied AI Leader, Microsoft
Abstract: 
Medicare risk adjustment is a rule-based calculation, based on seven variables: ICD Codes of the patient's diagnoses, age, gender, eligibility segment, entitlement reason, Medicaid status, and if the patient is disabled. All variables are picked from structured data – claims or EMR. NLP is applied to derive missed ICD codes resulting in lower risk adjustments for patient, which hurt the revenue of the provider/ACO taking the risk on them or underestimate the risk for payers insuring the patient.
What you will learn: 
This session focuses on the end-to-end delivery of automated Patient Risk Adjustment and Medicare HCC Coding from Clinical Notes.
The Importance of Experiment Tracking and Data Traceability
Victor Sonck, Evangelist, ClearML
What you will learn: 
Data scientists are usually not trained to go further than their analyses, however in order to get to a more mature AI infrastructure that can support more models in production, additional steps will have to be taken.