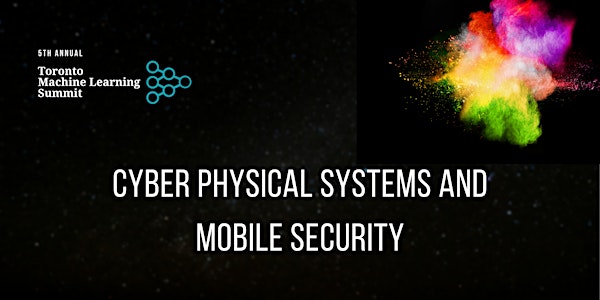 TMLS2021 Panel: Cyber Physical Systems and Mobile Security
Panel Discussion: Cyber Physical Systems and Mobile Security
About this event
Chaired by: Abdul Rahman Sattar, Senior Principal Security Analytics, Arctic Wolf Networks
Speaker: Abdul Rahman Sattar, Senior Principal Security Analytics, Arctic Wolf Networks; Ken Birman, Professor, Dept. of Computer Science, Cornell University; Sandeep Shukla, Professor, Indian Institute of Technology; Yevgeny Kulakov, Sr. Security Research Lead, Microsoft; Brandon Barry, CEO, Block Harbor
Abstract:
The focus of the panel will be on cyber security issues and the threat landscape in cyber physical systems and mobile devices. The panel will also discuss key innovations in Edge Computing and AI and Machine Learning that can be applied to cyber physical and mobile systems for misbehaviour and threat detection, threat containment, threat mitigation and recovery.
What You'll Learn:
Threat landscape and attacker TTPs for Control Systems, IoT, Automotive, Mobile Devices and commonalities and differences from traditional IT security
Current mobile malware detection approaches
Innovations in Edge Computing and scalable data processing on the edge
Applications of AI and Machine Learning and Edge Analytics to misbehaviour and threat detection and threat containment and recovery in cyber physical systems
Future research directions in cyber physical systems security and mobile malware detectio
Bio:
Yevgeny Kulakov has been in the computer security for more then a decade. Currently he is a research team lead at Microsoft focusing on protections from cross-platform threats, mainly on Linux and Mac.Previous to Microsoft, he was part of Lookout working on mobile device compromise detection. Apart of security he is an avid FPV drone pilot and enjoys trail hiking from time to time.
Prof. Sandeep K. Shukla is an IEEE fellow, and ACM Distinguished Scientist. He is currently a professor of Computer Science and Engineering department at IIT Kanpur which he headed during 2017-2020. He was the editor in chief of the ACM Transactions on Embedded Computing Systems during 2013-2020. He is currently associate editors of ACM Transactions on Cyber Physical Systems, and Journal of the British Blockchain Association. In the past he has served as associate editors of IEEE Transactions on Computers, IEEE Transactions on Industrial Informatics, IEEE Design and Test, and IEEE Embedded Systems Letters. Before joining IIT Kanpur in 2015, he was a professor at Virginia Tech, USA. He served as ACM Distinguished Speaker, and IEEE Computer Society Distinguished Visitor in the past. He has authored over 200 peer reviewed journal and conference papers, and authored/edited 10 books. He was awarded the Presidential Early Career Award in Science and Engineering (PECASE) in 2004, The Bessel Award by Humboldt Foundation in 2009, a Distinguished Alumnus Award by SUNY Albany in 2007, a Ramanujan Fellowship in 2015. His major research interest is Cyber Security of Critical Infrastructures, Cyber Security of IT/OT systems, and Applications of Blockchain Technology in Security and Privacy.
Abdul is the Senior Principal of Security Analytics at Arctic Wolf Networks where he is leading the strategy and R&D for application of advanced analytics and big data to cybersecurity. He has led research collaboration on cybersecurity analytics with multiple academic and industry bodies. He is the Steering Committee Member of multiple national and international technical communities in the advanced analytics and cybersecurity area. His research interests include cybersecurity, advanced analytics, distributed systems, edge computing, intelligent networks, IoT, CAVs and ICS.
Brandon's focus in cybersecurity began at Brown University with academic research into automotive security while studying Computer Engineering. Brandon Barry founded Block Harbor in Detroit in 2014 on a mission to provide services to keep vehicles safe, ranging from starting a 24/7/365 security operation center for vehicle systems to building a vehicle cybersecurity lab for penetration testing. After having successfully stood up several automotive cybersecurity projects with automakers and tier-1 suppliers, Brandon and the team continue on at Block Harbor, where we are building great solutions to keep mobility safe. Brandon is also one of the world's youngest full CISSP holders. Brandon's team placed first place at DEF CON's Car Hacking Village competition in 2019. In his spare time, Brandon is the Americas Lead for the Automotive Security Research Group (ASRG), a global nonprofit focused on knowledge, networking, and collaboration.
Ken Birman is the N. Rama Rao Professor of Computer Science at Cornell. An ACM and IEEE Fellow and the winner of the IEEE Tsutomu Kanai Award, Ken has written 3 textbooks and published more than 150 papers in prestigious journals and conferences. Software he developed operated the New York Stock Exchange for more than a decade without trading disruptions, and has been used in the French Air Traffic Control System and the US Navy AEGIS warship since 1996. Other technologies from his group found their way into IBM's Websphere product, Amazon's EC2 and S3 systems, Microsoft's cluster management solutions, and the US Northeast bulk power grid. His newest project, the Cascade intelligent key-value storage system, is intended as a platform for hosting AI and ML code in demanding settings such as autonomous vehicles, the smart power grid, smart highways and homes, and smart farms.