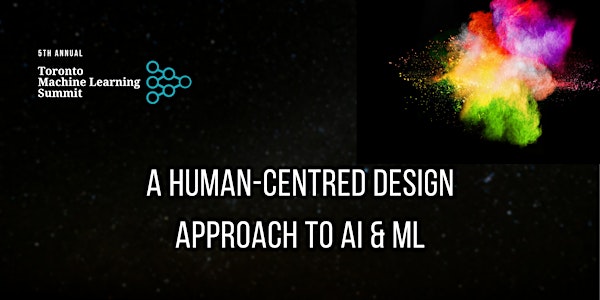 TMLS2021 Workshop: A Human-Centred Design Approach to AI & ML
A Human-Centred Design Approach to AI & ML
About this event
Speaker: Ramy Nassar, Managing Partner, 1000 days Out
Abstract:
This highly-interactive workshop gives participants a deep dive into AI, machine learning, and emerging technology, through the lens of human-centered design. This approach provides individuals & teams a repeatable and scalable toolkit that can be applied to building better AI-enabled solutions.
The program, delivered by the author of the upcoming AI Product Design Handbook, is intended for those involved with bringing disruptive digital products & services to market. Participants will walk away with a set of practical tools, methods & frameworks focused on applying these technologies to customer and organizational problems.
What You'll Learn:
Some of the topics & methods introduced in the workshop include:
Empathy maps and customer journey maps when working with AI
Ideation tools & strategies for intelligent systems
Prototyping methods for data-driven applications
Fundamentals of design thinking, human-centred design, and service design as they apply to AI and machine learning
Considerations for responsible use of data and avoiding risks of data bias
Gaining leadership/executive support for a design thinking approach to working with these technologies
(Not part of the description)
We could look to introduce the topic through a short talk as well as offering a much more hands-on workshop. As you know, we've done many full-day workshops in the past and they are very hands-on, with great feedback. I've evolved the content A LOT over the last 2 years and been able to make it fit better into a half-day ish program.
Bio:
Ramy is the founder of 1000 Days Out and author of the upcoming AI Product Design Handbook. As the former Managing Director of Design & Strategy for Architech and Head of Innovation for Mattel, he leads diverse teams in the creation of disruptive new digital products, services & platforms.
Ramy and his team at 1000 Days Out work across a wide range of industries with clients including Cadillac Fairview, Apple, Air Canada, Facebook, New Balance, Telus and CIBC.
Ramy teaches Design Thinking at McMaster University and in the Master's of Engineering, Innovation & Entrepreneurship program at Ryerson University. Ramy is a regular speaker at international events including World Usability Congress, IxDA, FITC, AI Everything, Machine Learning Exchange, AI Business Summit and World Mobile Congress.