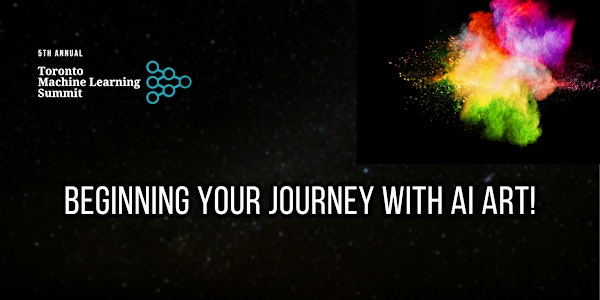 TMLS2021 Workshop: Beginning your Journey with AI Art!
Beginning your Journey with AI Art!
About this event
Speaker: Dr. Kirell Benzi, Data Artist | Researcher,  EPFL
Abstract:
In this AI art initiation workshop, we introduce powerful yet accessible tools to be creative with machine learning. We first start by reviewing the different aspects of an AI art piece and rapidly move on to the creation and manipulation of the dataset we will use. The second, and most important, part of the workshop is dedicated to learning the basics of Cables.gl, a visual programming framework in the browser. This environment allows us to quickly iterate over different designs and opens the door to a large number of uses outside art such as motion graphics or data visualization. While no real programming experience is required, general tech-savviness is mandatory to be comfortable. **Prerequisites** To apply to the workshop, you need to be comfortable with manipulating files on your system, browsing the web and be completely autonomous with your computer/laptop. You have a working microphone and high-speed internet connection. Your browser needs to support WebGL (Chrome preferred). Make sure you have the latest version and test it here: [https://get.webgl.org/](https://get.webgl.org/). A physical mouse is also preferred as we will manipulate 3D objects. A large display (or 2) is recommended to work alongside the videoconference window.
What You'll Learn:
In this workshop, you will learn how to create complex and interactive visual pieces on web from an AI generated image. Additionally, we will explain: - The role and function of AI Art and how it relates to Data Art - The artistic process behind the creation of a AI/Data Art piece - How to get started with [Cables.gl](http://cables.gl/) - The next steps on your AI Art journey
Bio:
Dr. Kirell Benzi is a data artist, public speaker and AI researcher. His work revolves around the creation of aesthetic experiences that inspire, educate and empower large audiences using state-of-the-art technology. Through a hypnotic visual semantic, he tries to demonstrate that algorithms have a soul; and that we can create positive emotions from complexity using methods that come straight from scientific research.
Kirell holds a Ph.D. in Data Science from Ecole Polytechnique Fédérale de Lausanne (EPFL) and teaches Data Visualization / Data Art at various universities.