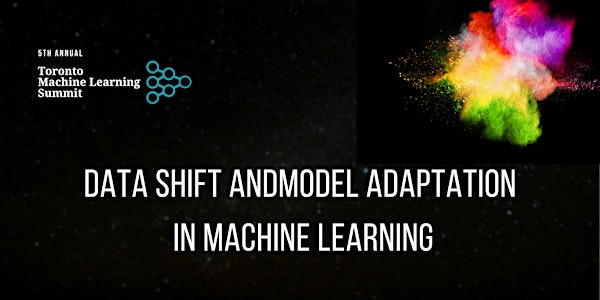 TMLS2021 Workshop: Data Shift and Model Adaptation in Machine Learning
Data Shift and Model Adaptation in Machine Learning
About this event
Speakers: Sedef Akinli Kocak, Project Manager, Vector Institute;  Ali Pesaranghade,  AI Research Scientist, LG Toronto AI Lab; Mehdi Ataei, Researcher, Autodesk
Abstract:
Machine learning models are conventionally trained under the premise that the training and the real-world (i.e., both source and target) data are sampled from the same distribution. This assumption may potentially lead to predictive problems in dynamic environments where the distribution of data changes over time. This is known as dataset shift. In most real-world situations, machine learning models have to cope with dataset shift after deployment. The shift in the distribution could be dramatic for unexpected reasons, e.g., the breakout of COVID-19 pandemic or cyber attacks.
This tutorial will present:
The principles behind data shift.
Strategies for detecting dataset shift.
Adaptation techniques.
Advanced topics in data shift and hands-on practice
What you will learn:  
This tutorial aims to provide a comprehensive understanding of dataset shift and explore potential remedies in the face of distribution shift.
The learning outcomes for the participants are:
Understand characteristics of dataset shift by real-world examples and relationship between input features and output changes
Learn different types of dataset shifts and the terminologies
Learn approaches to detect dataset shifts
Learn how to adapt an existing ML model to shifts using transfer learning and active learning rather than retraining on the target task from scratch
Get acquainted with computational techniques and libraries through hands-on practices
Bio:
Sedef Akinli Kocak (co-presenter) is an academic industry R&D partnership and project manager in the area of AI/ML and is an accomplished researcher in the area of ICT for Sustainability and Advance Analytics. She has a Ph.D. in Environmental Applied Science and Management from Data Science Lab at Ryerson University. She is currently with the Vector Institute as an AI Project Manager. She is also a part-time lecturer and supervisor in the Data Science and Analytics Program at Ryerson University.
------
Ali Pesaranghader (co-presenter) is an AI Research Scientist at LG Toronto AI Lab, and a former Sr. Research Scientist at the Canadian Imperial Bank of Commerce (CIBC) with primary research interests in adaptive learning, data stream mining, natural language processing, and transfer learning. Ali obtained his Ph.D. in Computer Science with a focus on Adaptive Machine Learning at the University of Ottawa in 2018.
------
Mehdi Ataei (co-presenter) is a research affiliate at the Vector Institute with a Ph.D. in Computational Physics from University of Toronto. He is currently a researcher at Autodesk's Simulation, Optimization, and Systems group. His current research is focused on computational physics, applied mathematics, topology optimization, and machine learning.