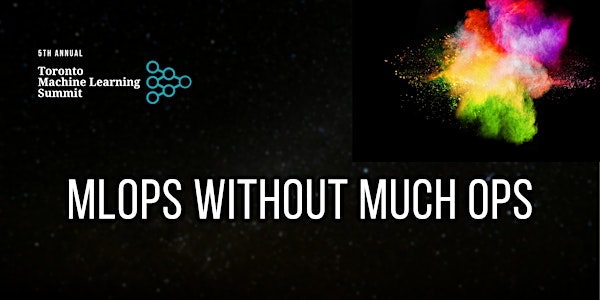 TMLS2021 Workshop: MLOps Without Much Ops
MLOps Without Much Ops
About this event
Speaker: Jacopo Tagliabue, Lead AI Scientist, Coveo
Abstract:
It is indeed a wonderful time to build machine learning systems, as we don't have much to do anymore! Thanks to a growing ecosystem of tools and shared best practices, even small teams can be incredibly productive at "reasonable scale". In this talk, we present our philosophy for modern, no-nonsense data pipelines, highlighting the advantages of a PaaS approach, and showing (with open, freely available code) how the entire toolchain works on real-world data with realistic constraints. We conclude with some unsolicited advice on the future of ML for "reasonable" companies, based on our experience in small and large organizations.
What You'll Learn:
How to build a full-fledged, end-to-end MLOps stack using best-of-breed open source tools and PaaS options, to make ML teams 10x more productive.
Bio:
Educated in several acronyms across the globe (UNISR, SFI, MIT), Jacopo Tagliabue was a Co-founder and CTO of Tooso, an A.I. company in San Francisco acquired by Coveo in 2019. He is currently the Lead A.I. Scientist at Coveo, shipping models to hundreds of customers and millions of users. When not busy building products, he is exploring research topics at the intersection of language, reasoning and learning.
Jacopo is a committee member for international NLP/IR workshops, and his work is often featured in the general press and A.I. venues (e.g. NAACL, SIGIR, RecSys, ACL). In previous lives, he managed to get a Ph.D., do sciency things for a pro basketball team, and simulate a pre-Columbian civilization.