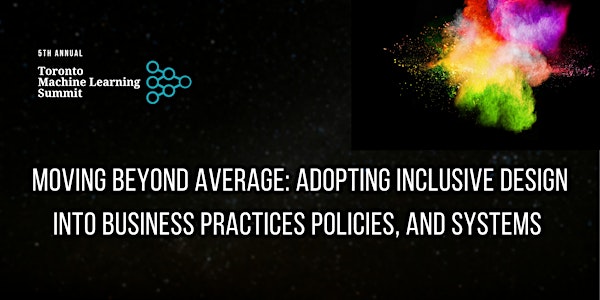 TMLS2021 Workshop: Moving Beyond Average
Moving Beyond Average: Adopting Inclusive Design into Business Practices, Policies, and Systems
About this event
Speaker: Dr. Deirdre Kelly, Leadership Specialist, NAV Canada
Abstract:
For practical and pragmatic reasons, the world is often designed for the "average" user. As a result, designers and developers across a variety of disciplines, including Artificial Intelligence (AI) and Machine Learning (ML), often make decisions that exclude particular audiences in their services and products.
This workshop was made for AI and ML experts, businesses, and other researchers and practitioners who are looking to move beyond designing for the average.  This workshop is intended for those who are instead interested in narrowing design gaps through integration of inclusive design into the everyday of business.
This workshop will:
1) Challenge participants to identify the biases, systems, and other barriers that lead to narrow or exclusive design;
2) Encourage participants to consider how these barriers present within their own business and how these barriers impact their products and services;
3) Equip participants with the knowledge, skills, and tools to build inclusive design into how they do business; and,
4) Provide concrete success metrics to provide accountability and help keep teams on track.
As research in cognition and neuroscience grows, we better understand the many different ways in which people learn, think, and interact with the world. This improved understanding of the diversity of human cognition provides concrete evidence of the limitations of designing for the average user and points to how this decision can have the consequence of leaving large portions of the population under-represented and under-served.
At a time when we are increasingly acknowledging the value of including a diversity of voices, companies need to look for ways to incorporate inclusive design into their business practices. By making the decision to continuously incorporate diverse user feedback into research, development and implementation cycles, companies can better ensure that products and services empower participation and inclusion.
Inclusive by default may be the desired end-state but it is a goal that can only be realized by continuous dedication, intentionality, and years of inclusive design practice. By participating in this workshop, you will be making a commitment to, and a step forward on, your journey towards increased inclusion.
What You'll Learn:
1) Overview of inclusive design principles;
2) Discussion of what it means to design for and with cognitive and neurological diversity;
3) Understanding of the role of cognitive bias and othernbarriers to inclusive design;
4) Examination of AI and ML industry case studies of designs that hit the mark (and some that don't); and,
5) Sharing of applicable practices for building an inclusive design practice of your own.
Bio:
Dr. Deirdre Kelly has applied her expertise in cognitive science, decision-making and user experience design to help people, teams, and organizations find novel and innovative solutions to complex design challenges. She is currently leading research and development in the design of healthy and effective organizations and organizational culture. Dr. Kelly is an accomplished writer and speaker that has presented at both international and domestic venues. In her free time, Dr. Kelly is dedicated to serving her community through research and advocacy. She is currently working with YouTube activist Jessica McCabe from "How to ADHD" to develop resources that empower effective decision-making for people with Attention Deficit Hyperactivity Disorder (ADHD).
Dr. Kelly has a strong commitment to life-work balance. She stays grounded with a regular yoga and meditation practice and by getting out into the woods. She enjoys writing satire, poetry, and satirical poetry as well as reading all of the time and all of the things. Dr. Kelly is grateful to share her life with a supportive partner, a furry companion named Riley, and friends who she thinks are some of the best people out there.