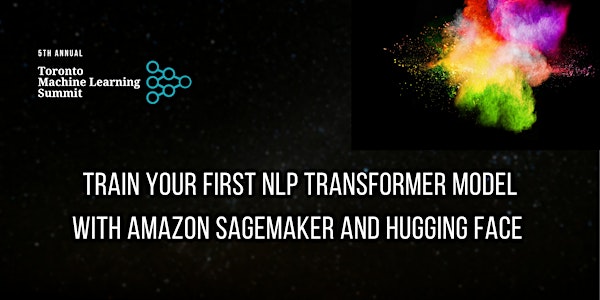 TMLS2021 Workshop: Train Your First NLP Transformer Model
Train Your First NLP Transformer Model with Amazon SageMaker and Hugging Face
About this event
Speakers: Mark McQuade, ML Success & Business Development Lead & Philipp Schmid , Machine Learning Engineer and Tech Lead, Hugging Face
Abstract:
Getting Started & Going to Production with Hugging Face and Amazon SageMaker
What You'll Learn:
We will walk users through Getting Started with Amazon SageMaker and Hugging Face, where we will train your first NLP Transformer model. We will also upload that model to the Hugging Face Model Hub. After this introduction, we will go one step further by deploying your trained model and run inference to simulate a production environment.
Bio:
Philipp Schmid is a Machine Learning Engineer and Tech Lead at Hugging Face, where he leads the collaboration with the Amazon SageMaker team. He is passionate about democratizing and productionizing cutting-edge NLP models and improving the ease of use for Deep Learning.
Mark McQuade is an AWS and cloud-based solution specialist, knowledge addict, relationship builder and ML Success and Business Development Lead at Hugging Face. Every day, Mark gets to learn more about what he is passionate about professionally – AI and machine learning – as well as the fascinating world of data. As a technology evangelist, you'll often find Mark promoting data and AI/ML at talks, webinars, podcasts and industry events.