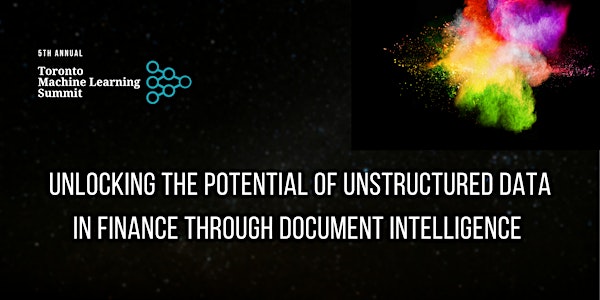 TMLS2021 Workshop: Unlocking the Potential of Unstructured Data
Unlocking the Potential of Unstructured Data in Finance Through Document Intelligence
About this event
Speakers: Rahul Ghosh, Vice President and  Himanshu Sharad Bhatt, Research Director, American Express AI Labs
Abstract:
According to projections, 80% of worldwide data will be unstructured by 2025. Financial Services (FS) industry is no different, where most enterprises hold vast array of unstructured data which is largely under-analysed. Typically, unstructured data refers to information that is not organized in a pre-defined manner or does not have a pre-defined data model. Here, the data is more challenging to interpret but can deliver a more comprehensive and holistic understanding for financial services use-cases. In this talk, we focus on unstructured documents in Finance and how Document Intelligence i.e., AI powered automated analysis of documents, allows to tap into the opportunities by analyzing huge amount of information present in such unstructured documents.
In financial services, unstructured documents include financial statements, invoices, bank statements, policies, contracts, marketing creatives etc. Data residing in such documents can be of variety types including images, tables, figures, and text. While there are challenges around processing documents, ability to quickly make decisions by leveraging such data can provide differentiated value propositions and competitive benefits. These benefits include improved operational excellence, automated compliance, or regulatory workflows, discovered insights from mining/ matching disparate data sources and overall enhanced customer experience. However, the very nature of unstructured data prohibits the direct application of AI/ML techniques that can be seamlessly applied on the structured data.
This talk will present the arts and sciences behind developing Document Intelligence solutions covering select use cases involving unstructured documents, show the business opportunities present and describe the technical challenges involved. Subsequently, we provide an outline to develop various Document Intelligence solutions that can aggregate, query, analyse, and accelerate the understanding of such data to unveil deep insights across Financial Services use-cases.
What You'll Learn:
The participants are expected to come out after the talk with an enhanced understanding of AI/ML techniques in the Document Intelligence space including discovery of different types of document sources and their inherent potential, how to analyse & interpret unstructured documents such as financial & bank statements, marketing documents, invoices, receipts etc. We will cover specific cutting-edge techniques to perform information extraction on documents, including form-based, verbose, or tabular data, which helps transform documents into a structured format. The talk will introduce multiple real-world applications that are being powered by Document Intelligence such as credit ratings, under writings, mitigating compliance and regulatory risks. The talk will also provide an opportunity to the participants to get familiar with some of the open questions, research challenges, and opportunities in this space.
Overall, we expect that our talk will educate the participants and will empower them to find answers to the following questions in this context:
(1) What are the types of unstructured data available & their potential for the financial industry?
(2) What are the challenges faced by the organizations in leveraging AI/ML to tap into the huge amount of information present in unstructured data?
(3) What is the value/impact that can be unlocked by leveraging such unstructured documents?
(4) What are some of the upcoming trends and open challenges?
Bio:
Rahul Ghosh is a Vice President at American Express AI Labs. He received his MS and PhD from Duke University, NC, USA. In his current role at Amex, Rahul is responsible for the R&D function of the lab cutting across several areas of NLP, document AI, ML algorithms and optimization. His research interests include AI systems, Cloud AI and in general at the intersection of distributed systems and AI. Prior to joining in Amex, Rahul worked at Xerox Research India, at IBM Product Group in NC and at IBM T. J.Watson Research Center in NY. He is a co-author of 35+ peer reviewed papers and co-inventor of 50 US patents (granted/pending).
Himanshu Sharad Bhatt is currently a Research Director at American Express AI Labs where he is actively involved in developing Document AI-based solutions for unstructured data analytics. Prior to joining Amex in 2017, Himanshu has worked with Xerox Research, India towards building "unstructured data analytics" capabilities for contact centers and services division. Himanshu holds a PhD degree in Computer Science & Engineering where his thesis was acknowledged with the "best thesis award" by INAE and IUPRAI in 2014. Over the years, his work has led to 30+ publications in reputed conferences and journals and 5 US patent to his credit.