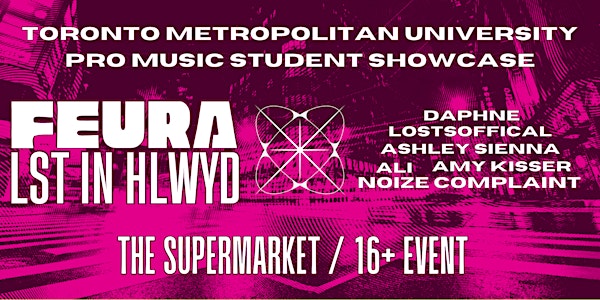 TMU Pro Music Student Showcase
TMU Pro Music Student Showcase
When and where
Location
The Supermarket 268 Augusta Avenue Toronto, ON M5T 2L9 Canada
Refund Policy
Contact the organizer to request a refund.
Eventbrite's fee is nonrefundable.
About this event
Featuring some of the best uprising talents from Toronto Metropolitan University's Professional Music program, get ready for a night of exhilarating live music Thursday, October 6th at the Supermarket.
Meet the Lineup:
Feura
Feura brings a fresh take on Alt pop music by incorporating their theatrical background, drag-inspired costuming and performance for a fun and energetic experience. Inspired by artists such as Lady Gaga, King Princess and Tegan and Sara, Feura uses drag to incorporate all of their favourite parts of theatre: acting, dancing, costuming and character creation, with their musical expression. By continuing to break down binaries in their artistic practice, Feura's work can truly be described as queer in nature.
LST IN HLYWD
LST IN HLYWD is bringing rock/pop punk to a whole new generation - a classic feel fused with modern technology, creating a whole new sound. While most teens were sequestered to their bedrooms, their parents' living rooms the mundane and mediocrity of less to do, and even little to see due to the global pandemic of 2020 Damian Rose decided to get creative, and LST IN HLYWD was born. By the fall of 2021, the band released their first single entitled "Bittersweet", and have recently grown to over 40k followers on social media following the releases of "Wish You Were Her(e)" and "Summer Valentine". The group has nowhere to go but up into a stratosphere built on the shoulders of their idols: Fall Out Boy, All Time Low, Chase Atlantic, Palaye Royale, Van Halen, among others. They are currently working on their first EP set to release in late August which is being produced by Maxamillion Haunt and Nick Lewert from the Florida-based rock band The Haunt.
DAPHNE
DAPHNE is a singer, songwriter, and choreographer based in Toronto. With colourful melodies and expressive language, she compels listeners to turn up the volume and roll down their windows. Her bedroom pop and indie sound engage audiences throughout Toronto at spaces such as OBJX Studios, Playground Cafe and Taco Taco. DAPHNE is currently completing her undergraduate degree in Professional Music at Toronto Metropolitan University.
LostsOffical
LostsOfficial is an upcoming artist, singer/songwriter, and producer/engineer. The young prodigy from Milton, Ontario, Canada is on the rise, with appearances in the "Adin Ross Talent Show", collaborations with Youtuber and artist "Dasgasdom3", and more. LostsOfficial constantly works to impact the industry and pave his way to the top. With his smash hits "Me and You" and "Bite Me" released, and his upcoming singles "Yes Or No", and "Myself" in the works, LostsOfficial promises to make good music that everyone will enjoy!
Ashley Sienna
Toronto born 19 year old pop singer-songwriter, Ashley Sienna, takes on a darker pop with her latest album "Restart", inspired by Billie Eilish and Madison Beer. Her music will bathe you in powerful emotions as addicting melodies, vocoder harmonies, heavy bass, and electrifying beats flow through your body. Her story began at age 11, when she wrote her first original song. Today, she has 30 released originals, including her debut EP, "Out Of My Head". Her music is recognized across borders, as she takes on LA, Vegas, and Europe.
Ali
Ali is a 19-year-old artist, songwriter, and producer from Markham, Ontario, Canada. Being surrounded by music and entertainment from a young age, he found a natural footing in his love for creating music. Making pop music inspired by the likes of Troye Sivan, Taylor Swift, Conan Gray, Lorde, and Charli XCX, his musical DNA represents a unique clash of styles. He performed alongside other students at the first Artist Showcase in March 2022. In April 2022 he released his single "Uncharted Territory", the first single off his upcoming project, followed by "Maybe Maybe" in September. Ali is an advocate for spotlighting a diverse number of voices in the modern pop landscape, whether it be of different ethnicities, orientations, or backgrounds. He provides his voice to represent groups that rarely find relatability in pop music in hopes of inspiring others to do the same.
Amy Kisser
With a piercing vocal range encompassing rumbling lows all the way to whistle notes, 19-year-old Amy Kisser's voice is nothing less than massive. Loud and passionate, she bears her soul to the world with a burning, emotive honesty that screams out for the voices unheard. Known for her explosive stage presence and powerhouse voice, her small stature is deceiving. Her unique rock and singer-songwriter blend, complemented with the perfect amount of grit and attitude, shows that Amy is unapologetically the world's newest brand of rockstar. A former School of Rock AllStar, Amy's tireless drive has allowed her to play on stages in Calgary, Regina, and Toronto over the past three years. A Calgary-born artist now based in Toronto with multiple new releases in the works, one thing is for sure: Amy is just getting started.
Noize Complaint
Noize Complaint is a Progressive Metal duo project originating out of London, Ontario. The group is currently made up of River Christie-White as the vocalist and Benjamin McGinnis as the lead guitarist. Their musical style is unique as the energy and syncopation of their songs allow anyone to dance even though the songs are complex in nature, furthering the complexity of the instrumental is River's experience as a professional songwriter and vocalist, making thought-provoking lyrics and memorable harmonies on top of the harsh vocal distortion that characterizes the metal sound. Noize complaint is working on their debut studio album and has already captured the minds of many as they are showcased consistently on Western Radio (London) and Rise Up Radio/The Unheard Sound (Toronto)