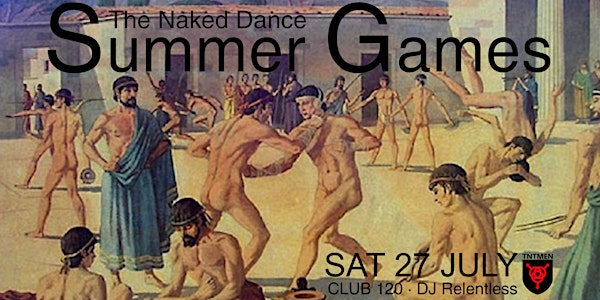 TNTMEN Naked Dance Summer Games - July 2019
When and where
Location
Club 120 120 Church Street Toronto, ON M5C 3G8 Canada
Description
Online Tickets in Advance: $5 for members & $10 for Guests. At the door: $15
The TNTMEN Naked Dance - Summer Games welcomes summer in full swing to Canada. For Nudists or Naturists, it is also the time of year when we must take it all off just to stay cool, of course in public areas designated as clothing optional. Hanlan's Point Beach is the perfect spot to cool your cajones, while getting your libido revved up at the same time. Why not invite a friend, pack a lunch and refreshments, take a book or some music and earbuds. Don't forget sunscreen! Get outside and get naked! Come and celebrate the height of "naked men season"! At TNTMEN naked is our natural state.
Let the Games begin! We all like to play games, just as long as they are fun, friendly and inclusive. And when you have a group of naked men, gathered in a single place, with no one to police your activity, the games get very...HOT! So come out to our July naked dance and find a friend (or two. Or four?) to play some naked games. We will leave the activity up to the participants, and generally you will have an audience, applauding, cheering, maybe even screaming! Or those could be the participants. Either way, boys will be boys and games will be played.
About our poster this month. The image depicts an Ancient Greek Gymnasium featuring of course naked men engaged in various sports. Today modern gyms are enclosed and found in air conditioned spaces while the Greeks practiced their sports in the outdoors.

What does this have to do with TNTMEN? Just everything! The word Gymnasium is derived from the Greek word γυμνάσιον (gymnasion) from gymnos which means 'naked'. The gymnasium in ancient Greece functioned as a training facility for competitors in public games. It was also a place for socializing and engaging in intellectual pursuits. Athletes competed in the nude, a practice which encourage aesthetic appreciation of the male body and as a tribute to the Gods. From its very inception, gymnasium has been portrayed as a place for men.
DJ RELENTLESS is on deck this month to keep your feet moving on the dance floor!
TIPS for FIRST TIME CRUISERS
DANCE FLOOR CRUISING: Take a few minutes to get down on the dance floor, yes cruising is completely fine and encouraged at this event. Check out the other dancers, see if they are checking you out. Don't be concerned if you see the occasional erection on the dance floor. Those happen! Just take it as a compliment. Offer them a beverage and see if they wish to go upstairs to check out the action. Or just continue to shake your groove thing and see if they join you. If you haven't danced naked you haven't enjoyed the Naked Dance yet!