Description
Pride Weekend Pass: Friday & Saturday Naked Dances
TNTMEN offers the only Naked Dance Events during Toronto Pride. Our DJs for the weekend are DJ PJ on Friday and DJ Mark Falco and DJ Relentless on Saturday! Enjoy both FRI JUN 23 PRIDE IS LOVE DANCE and SAT JUN 24 NAKED PRIDE DANCE for the low price of $30. Weekend Passes are only available through online pre-sale. When you arrive for your first event you will be issued a bracelet that allows in-out privileges for the two dance events. By-pass lineups on Pride Weekend, priority checkin for Weekend Pass holders.
$30 in advance ($15 members) - SOLD OUT!
Additional 25 Weekend Passes released!
$30 online ($20 members)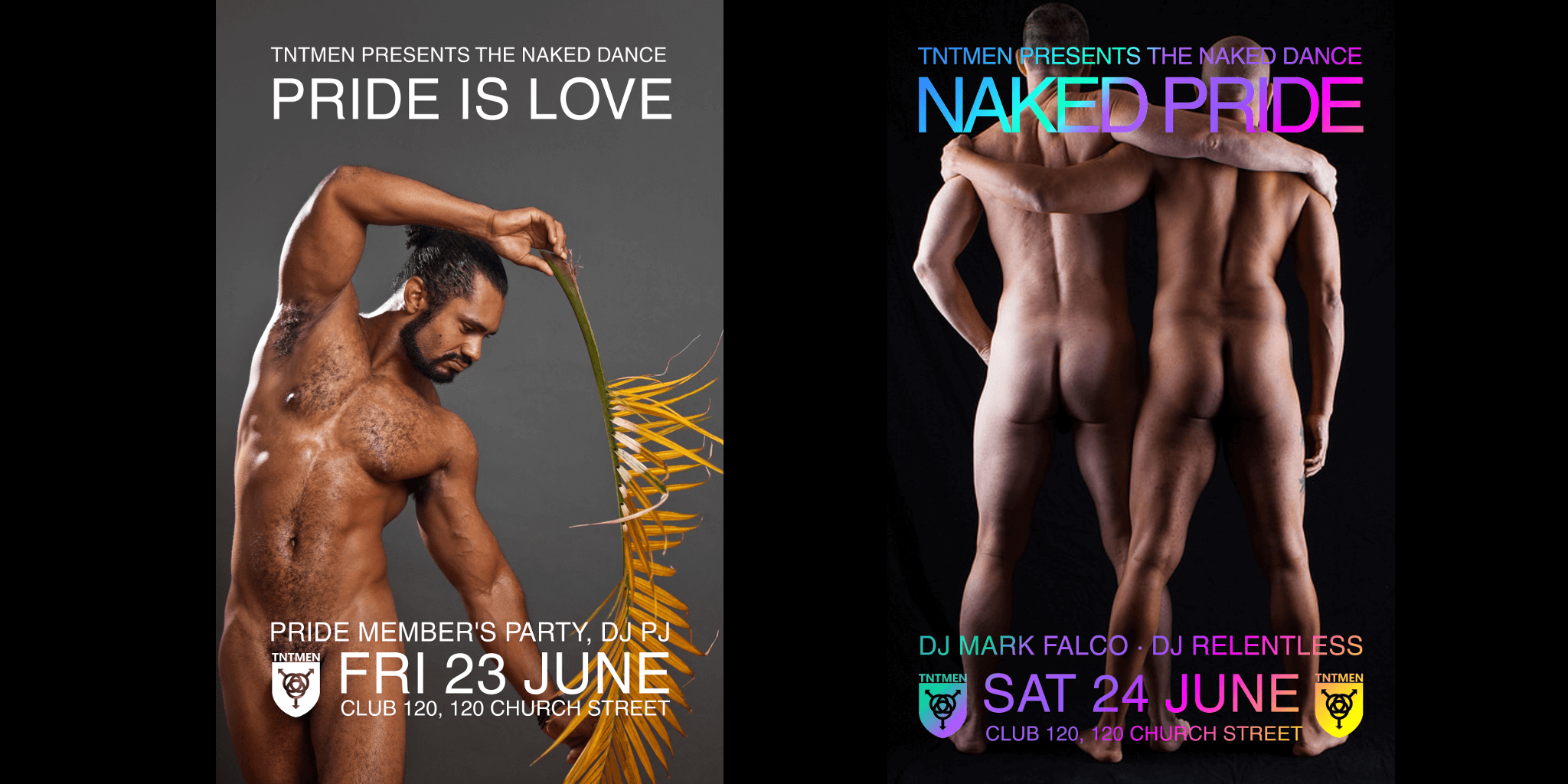 ---
Friday June 23:

Pride Is Love Dance
Come join your TNTMEN brothers for a relaxed get together with finger food, sandwiches and a relaxed atmosphere to catch up, pick up your bracelet passes (if you have bought them), pick up last minute tickets and relax! We are inviting all current members and out of town guests to meet us at this yearly event! Come meet old friends and new, and share in the spirit of love and respect that TNTMEN is known for.
There will be a nice array of meats, cheeses, sandwiches and sweets for you to enjoy as well as the retro hits to beats from today supplied by our own TNTMEN selector, DJ PJ. There will be a few surprises and door gifts.
15$ in advance, $20 at the door for guests, $15 members (if available)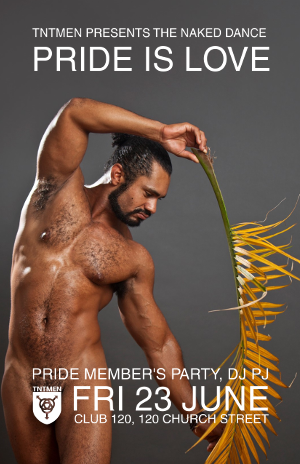 ---
Saturday June 24

: Naked Pride Dance
Our biggest event of the year. Naked Pride last year nearly tore the roof of Club 120 and we don't expect this year to by any different. This event will sell out and although we will hold a few tickets at the door, it is highly recommended you buy in advance. Get set for another incredible edition of Naked Pride, where we show the rest of the world why TNTMEN do it better!
DJ Mark Falco and DJ Relentless will be selecting your dancing soundtrack. Both are veteran DJ's with many years of experience so expect the best music you have heard in a long time, pumping and swinging for the whole event! Our Pride photographer will be on site this day so if you are feeling good and want to be in future TNTMEN promo and on the website, this is your opportunity. All photos will be cleared by release form prior to any distribution. There will be no photography on the second floor.
$15 in advance, $25 at the door for guests, 20$ members (small quantity held back)