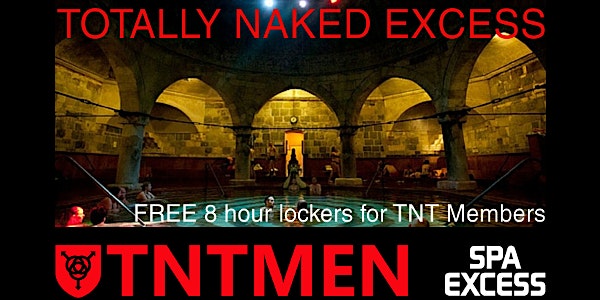 TNTMEN Totally Naked Excess - July 2019
When and where
Location
Spa Excess 105 Carlton Avenue Toronto, ON M5B 1M1 Canada
Description
TNTMEN Members: FREE 8hr Lockers or Half-Priced Standard Rooms!
Locker/room rental required for entrance. Our guests should check spaexcess.com for pricing. Guests are requested to purchase a $5 ticket in advance if they wish to enjoy the light meal we provide during the event. This helps us order enough food for everyone.
TNTMEN's monthly naturist social event at Spa Excess. Come out and enjoy meeting our members and guests with our ice breaker activities and enjoy a slice of pizza and beer specials. Come out and find out what all the talk is about. We encourage all NEW Members or GUESTS who would like to learn about TNTMEN to attend this event. Although Totally Naked Excess is held in a bathhouse, it is primarily a social event and is a perfect event to make some friends and get comfortable. Come and discover you are beautiful!

Remember RED is for HOT! Totally Naked Excess is a sex-positive social event. What does this mean? Spa Excess is mixed use space, containing 4 beautifully appointed floors for you to enjoy as well as a fully licensed lounge on the main floor. Sexual activity is permitted anywhere in the space but mainly takes place in the upper levels. Enjoy time socializing with TNTMEN in the lounge. You are welcome to explore Spa Excess' upper floors for more lively activity or perhaps a relaxing hot tub with new friends. Spa Excess is TNTMEN's official bathhouse. Come, relax, have fun and enjoy yourself to your own level of comfort! Body positive, sex positive, respect for each other, and for our community. That's what TNT is all about!
We would like to remind our membership and guests that sexual activity (excluding anal) is allowed in the Bar/Lounge area, just keep any messes off the carpet or furniture (where it goes is up to you). However, when sitting on a chair or stool, all nudist groups, no matter where they are in the world, require their members to sit on a towel. This is for hygienic reasons, as the area we sit on can have some nasty bacteria.