About this Event
Sharing stories of the good, the bad, the ugly & the incapable leaders I've come across in my time, and the type of leader I, not only, hope I am, but intend to be.
In this session, you will learn:
The varieties of leaderships
Instincts leaders vs. non leaders have
Q & A on what people think leadership means & how it is achieved
About Emily
A small town girl, living in a small city! Since a young age Emily had to make her own money to have fun, or drive her parents car. Holding a couple part time jobs as a high school student,she encountered her first bought of less than desirable management due to her extracurricular activities and it was at 15 that she set the tone for not only what kind of employee she was going to be, but most importantly what kind of leader she wanted to be.
Emily jokes that she did life backwards; after high school she moved out of her hometown and started a job in retail that resulted in a fast tracked to assistant manager at 18 year's old! When it came time to finally go to college she only attended a year and a half of study before she was hired through a co-op program, where instead of returning to school stayed at the job and gained hands on experience.
Again it came time to complete her education & instead of going back to school in Saskatchewan, for the 1/4 semester left, she moved across the country and enrolled in a yearlong program that cost five times the amount.
While employed in Saskatchewan, Emily was blessed with many great leaders. Once living in BC, this set her up to learn disappointment in many of the managers of her past. Emily's experience brought her through the ringer of managers but she wouldn't have it any other way. It has built the leader she is today!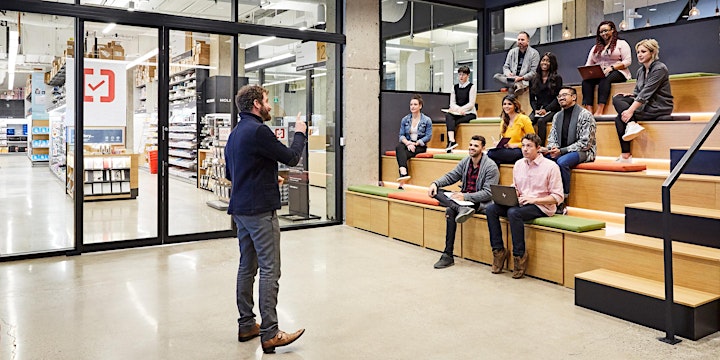 What is Spotlight?
We know that staying up to date on today's big ideas and tomorrow's big trends is a job in and of itself.
As the world's first working, learning and growing store – we are excited to be introducing Spotlight: a new community gathering and learning space. Spotlight will engage communities with knowledgeable experts to both inspire, inform, motivate and educate.
Spotlight is a space accessible to persons that use mobility devices. We encourage people from all backgrounds to participate in our public programming