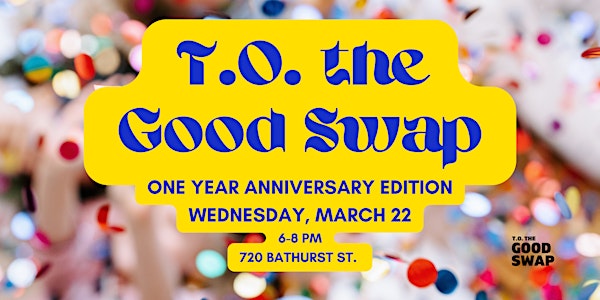 T.O. the Good Swap: One Year Anniversary Edition
T.O. the Good Swap is a monthly clothing exchange for all genders, all bodies, and all ages located in downtown Toronto.
When and where
Date and time
Wed, Mar 22, 2023 6:00 PM - 8:00 PM EDT
Location
Centre for Social Innovation - Annex 720 Bathurst Street Toronto, ON M5S 2R4 Canada
About this event
March marks one year of T.O. the Good Swap! Come celebrate with us!
________________________________________________
Love clothes AND the planet? Then you'll love this swap...
OUR MISSION
Eliminate textile waste in Toronto and champion ethical and sustainable fashion practices globally by encouraging participation in the conscious fashion movement through swap events, advocacy, and education.
Our mission differs from service organizations such as clothing banks which provide access to free or low-cost clothing for those in need of it. This list of clothing banks in Toronto may be useful if you are looking for these services.
_______________________________________________
WHY SWAP?
By swapping instead of shopping (or dumping your clothes at a thrift store), you're participating in the circular economy, keeping clothing out of landfills, saving money, updating your wardrobe, avoiding unethical fast fashion and resource depletion, and sharing with a community of likeminded people… and sharing feels good.
All the sweet haul dopamine, none of the ethical dilemma!
Learn more about the fashion industry and how to care for clothing you truly no longer need on our Resources page.
_______________________________________________
HOW T.O. the Good Swap WORKS
1. Drop
Stop at the welcome area with up to 10 items of preloved clothing, footwear, jewelry, and accessories in good condition (a.k.a laundered and folded, no rips, stains, used undies or socks).
2. Swap
Find some thing(s) you love and try it/them on in the Centre for Social Innovation's gender neutral (and mirror-filled!) bathrooms.
3. Keep
Take what you want home with you. We ask that you to limit the amount you take home to a similar amount to what you brought.
4. Share
Tag @t.o.thegoodswap to share your finds with the world. Sign up for our mailing list to find out when the next swap is!
_______________________________________________
COMMUNITY GUIDELINES
1. Be nice to each other.
2. Vet your items: no holes, no stains, clean, and ready to be loved by another.
3. Respect physical boundaries.
4. Don't hoard.
5. Don't hover.
6. Don't use the swap as a dumping ground. The end-of-life care of your textiles is your responsibility. You bought it, you bury it.*
7. Don't do stuff that makes us have to write more community guidelines.
*Please do not actually bury it. 85% of textile waste ends up in landfills each year.
_______________________________________________
LOCATIONS
Please note that TTGS switches locations between the ground floors of 720 Bathurst St. (CSI Annex) and 192 Spadina Ave. (CSI Spadina).
Both the Centre for Social Innovation locations are accessible spaces, details below!
_______________________________________________
LAND ACKNOWLEDGEMENT
TTGS takes place at the Centre for Social Innovation's two locations on the traditional territory of many nations including the Mississaugas of the Credit, the Anishinaabe, the Chippewa, the Haudenosaunee and the Wendat peoples and is now home to many diverse First Nations, Inuit and Métis peoples. Tkaronto (Toronto) is covered by Treaty 13 signed with the Mississaugas of the Credit, and the Williams Treaties signed with multiple Mississaugas and Chippewa bands.
We are grateful to make use of this space and hope to learn from, and integrate, Indigenous knowledge and values into these events.
ACCESSIBILITY
Both the Centre for Social Innovation (CSI) locations are accessible spaces.
720 BATHURST ST.
The ground floor of CSI Annex is fully accessible for mobility devices. Guests will enter through the south-east door – the entrance is equipped with a lift.
192 SPADINA AVE.
CSI Spadina's ground floor is fully accessible with a ramp at the main entrance and a lift on the south side of the building located in the laneway between 192 and 190 Spadina Ave.
ARRIVING
6pm ticket holders: Please don't arrive early, doors open at 6pm. We promise, there's no need to rush!
6:45pm entry ticket holders: please arrive at 6:45pm or later
Doors close at 7:50pm.
COVID-19
Masks are optional. Maintain a safe distance from your fellow swappers and wash your items before you swap them.
If you're feeling under the weather or have recently been around someone who is, stay home and join us at the next event! Covid or not, no one wants to get sick.
FINE PRINT
Please read in a very serious voice: *We don't take responsibility for garments donated and swapped and accept no liability for any claim or loss resulting from any transaction taking place at the event.*
_______________________________________________
FAQs
WHY SWAP IF I CAN SELL?
We figure it's like this:
If you bought it, sell it.
If you got it swapped, stooped, or gifted... swap it! Keep it in the free economy!
WILL THINGS BE IN MY SIZE/STYLE?
We straight up do.not.know. That's the magic of a swap - it's all determined by the swappers!
While we can't guarantee you'll find something you love, doing these things will help:
• Bring items that YOU would be delighted to find.
• Invite friends who share your style and/or sizing - they'll probably have something you like!
• Invite those who DON'T share your style or sizing - this will help ensure variety and inclusion!
WHAT SHOULD I BRING?
Ask yourself, "Would someone else want to wear this?". If it's clean and in good condition, the answer is probably yes! Just don't bring items that are worn out, stained, or worse-for-wear. If you need help with the end-of-life of your apparel, please review our resources page!
Can I bring kid's clothes? Yesss, kids need clothes too!
Household items? Nahhh, we're focusing on apparel for now - but maybe one day!
CAN I USE THIS SWAP TO GET RID OF STUFF?
We accept only gently used clothing in good condition at the welcome desk. The swap is only as useful as the items we bring, so please don't just cram all your old items in a bag and dump 'em out. That would not be good.
If your items have lost their utility as wearable garments, find other uses for them, or recycle them!
IF I BRING SOMETHING, DO I HAVE TO TAKE SOMETHING?
Hah. Nope, if you just want to donate your items that's cool!
If you can't drop them off at the swap, let us know and we'll coordinate an early drop off time for you. Shoot an email to hello@goodswap.ca or DM us at @t.o.thegoodswap!
IF I DON'T BRING ANYTHING, CAN I STILL SWAP?
Definitely. Just bring something next time!
IF I DON'T FIND ANYTHING, CAN I TAKE MY STUFF BACK?
Oh yeah! If they haven't been claimed and you haven't found anything, feel free to take your items back. We won't hold them for you, so grab them on your way out!
Many used clothing collectors don't actually reuse clothing in a sustainable way. We suggest consigning them or donating directly to charities in need of the specific items you have.
WHAT HAPPENS TO UNCLAIMED ITEMS?
We want your clothes to go to a loving home with someone who really wants them, instead of a landfill.
If items aren't swapped or reclaimed they will be kept for another swap or donated responsibly.
CAN I INVITE FRIENDS?
Of course! Just make sure they RSVP, we've got limited space!
WHO SHOULD I CONTACT IF I HAVE MORE Q'S?
Send an email to hello@goodswap.ca to get all your q's a'd, or check out goodswap.ca!
_______________________________________________
OUR PALS
The Centre for Social Innovation
The Centre for Social Innovation is a hub for people working for people and planet. With two co-working, meeting room and events locations in downtown Toronto and member programming, they're a perfect place find space, make connections, and make impact. We're very, very happy to host our swaps at CSI!
Wanna be a pal? Message us to talk about partnering and sponsorship!
_______________________________________________