Sales Have Ended
Registrations are closed
Registration for this event is now closed. Contact the event organizer to see if it's still possible to be added to the list. You can also check d99tm.org/events/upcoming-events for upcoming events.
D99 is organizing the 2021 Spring Online Conference for the district's Toastmasters.
About this event
Are you ready for the exciting weekend learning, fun activities, and networking with fellow Toastmasters in District 99?
The District's Conference team invites you to attend our first-ever online conference. This is the time when Toastmasters in the district come together to learn, celebrate, network and elect new officers for the next program year.
Joining us to kick off the Friday evening with a keynote is Toastmasters Region 4 International Director, Harold Osmundson, DTM. This will continue with exciting team-building activities, the candidates' showcase, awards, and socials.
The excitement continues on Saturday with the keynote delivered by Mr. Kendal Netmaker. This will be followed by the presentation of a Communication and Leadership award. Kendal is known as one of Canada's most accomplished entrepreneurs with over 25 awards in business to date! Kendal was recently named one of "Canada's Top 40 Under 40", the country's most coveted award for young business leaders. Each year Kendal speaks to thousands of people worldwide on resilience, leadership, and the power of telling your story. Kendal has authored the best-selling book - Driven To Succeed: From Poverty To Podium.
Following the keynote and presentation of an award, the conference will continue with the International Speech Contest, Annual Business Meeting, and presentation of contest winners.
Who should attend?
All Toastmasters looking to learn, network, and celebrate with peers
All contest participants including contestants, contest chairs, judges, chief judges, zoom masters, ballot counters, and timers
For more information please contact the Conference Chair at conferencechair@d99tm.org​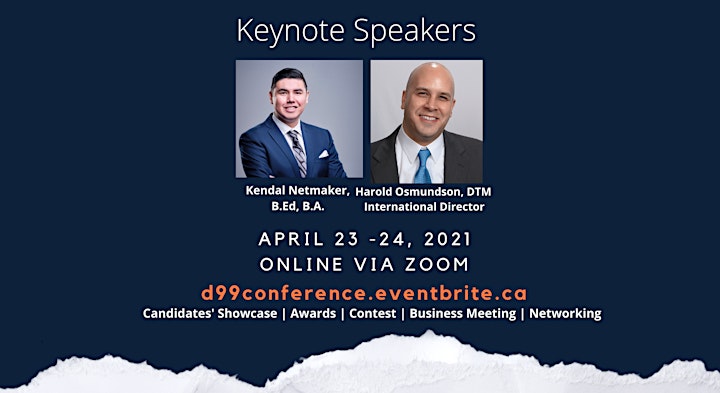 Agenda
Friday, April 23
5.30 – 6:00 pm – Check-in
6:00 - 6:10 pm – Welcome and Housekeeping
6:10 – 6:35 pm - Keynote: International Director, Harold Osmundson, DTM
6:35 - 6:40 pm - Transition to Breakout Session
6:40 - 7:20 pm - Breakout Room Funtivity
7:20 - 7:30 pm - Break/Transition to the main session
7:30 - 7:40 pm - Costume Contest
7:40 - 8:30 pm - Candidates Showcase
8.30 - 8.55 pm - Recognition Awards
8.55 - 9.00 pm - Evening Agenda wrap up
Optional Virtual Happy hour 9:00 pm to ??
Saturday, April 24
8.30 – 9:00 am – Check-in
9:00 - 9:10 am – Welcome and Housekeeping
9:10 – 9:40 am - Keynote and presentation of Communication & Leadership Award: Kendal Netmaker
9:40 - 11:30 am - Online Speech Contest
11:30 - 11:40 am - Break
11:40 am - 1:00 pm - Annual Business Meeting
1:00 - 1:10 pm - Contest Winner Presentation
1:10 - 1:15 pm - Wrap up & Adjourn