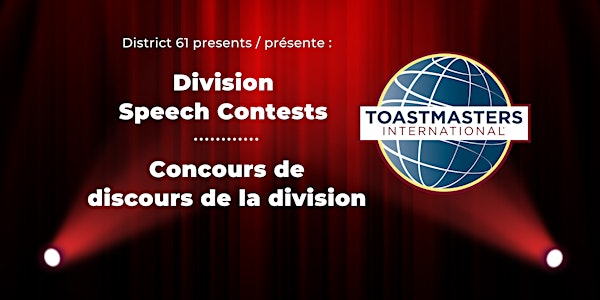 Toastmasters District 61 Division B Speech Contests (EN)
District 61 Division B Speech Contests / Concours de discours de la division B
When and where
Location
Royal Canadian Legion Branch 480 389-391 Richmond Road Ottawa, ON K2A 0E7 Canada
About this event
4 hours 30 minutes

Mobile eTicket
HYBRID EVENT!
Toastmasters International : Speech Contests
Speech contests are a Toastmasters tradition. Each year, thousands of Toastmasters compete for the top spot in District 61 to be crowned the best public speaker. At this contest event, the contestants will compete in the following:
Evaluation Contest - An evaluation of a presented speech, all contestants are assigned the same speaker to provide feedback.
International Speech Contest - Contestants present a five- to seven- minute speech to deliver a message of their choosing.
Agenda:
07:30 – Sign in and network with other Toastmasters
08:00 – Contests Begin!
Speech Contests benefit everyone, providing:
an opportunity for speakers to improve their speaking abilities,
recognition to the best as encouragement to all,
the opportunity to learn by observing other speakers.
Each contest begins at the club level. Winners of the club contests continue to compete at the Area contests. Today, we celebrate those who have won their Area contests and are competing to win the Division contests.
Join us, for the District 61 Annual Conference, were the best of the best will be announced!
Today's winners will represent the Division and compete on the District 61 stage at the Conference.
These individuals will compete for the title of "Best Speaker" of the 2,500 members of District 61 (Quebec, Eastern Ontario, and upstate New York). Register today for the Annual Conference:
This is the largest public speaking competition in our geographic location - don't miss out!
(Cet événement est en anglais)
ÉVÉNEMENT HYBRIDE !
Toastmasters International : Concours de discours
Les concours de discours sont une tradition Toastmasters. Chaque année, des milliers de Toastmasters se disputent la première place dans le district 61 pour être couronnés le meilleur orateur. Lors de ce concours, les participants s'affronteront dans les épreuves suivantes :
Concours d'évaluation - Il s'agit de l'évaluation d'un discours présenté. Tous les concurrents sont assignés au même orateur pour fournir des commentaires.
Concours international de discours - Les participants présentent un discours de cinq à sept minutes pour transmettre un message de leur choix.
Ordre du jour :
07:30 – Connexion et réseautage avec vos collègues Toastmasters
08:00 – Les concours commencent !
Les concours de discours profitent à tous, en offrant
une occasion pour les orateurs d'améliorer leurs capacités d'expression orale,
une reconnaissance pour les meilleurs comme un encouragement pour tous,
l'opportunité d'apprendre en observant les autres orateurs.
Chaque concours commence au niveau du club. Les gagnants des concours de club continuent à participer aux concours de secteur. Aujourd'hui, nous célébrons ceux qui ont gagné leurs concours de secteur et qui sont en compétition pour gagner les concours de division.
Rejoignez-nous à la conférence annuelle du district 61, où les meilleurs des meilleurs seront annoncés !
Les gagnants d'aujourd'hui représenteront la division et concourront sur la scène du District 61 lors de la conférence.
Ces personnes se disputeront le titre de « meilleur orateur » parmi les 2 500 membres du District 61 (Québec, Est de l'Ontario et Nord de l'État de New York). Inscrivez-vous dès aujourd'hui à la Conférence annuelle :
Il s'agit de la plus grande compétition d'art oratoire dans notre région géographique - ne la manquez pas !