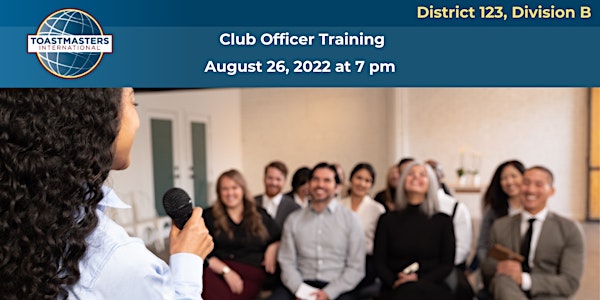 Toastmasters Division B Club Officer Training, District 123
Last chance to complete club officer training for round 1!
About this event
Division B is presenting this club officer training session to equip you with the tools and contacts that you will need in this exciting year to come!
"As an elected officer of your Toastmasters club, you have the opportunity to aid in your club's success and gain valuable hands-on leadership experience. Unlike other training programs, where you learn how to be a successful leader by reading books and attending lectures, Toastmasters gives you the opportunity to gain practical leadership experience while helping people learn and grow in their professions and their personal lives.
"As a club leader, you play an important role in the mission of Toastmasters International: We empower individuals to become more effective communicators and leaders.
"Serving as a club officer is a great responsibility and an exciting opportunity. Your term of office is filled with chances for you to renew your perspective, practice teamwork and develop your capacity to translate values and strategies into productive actions."
-- Excerpt from page 7 of the Club Leadership Handbook